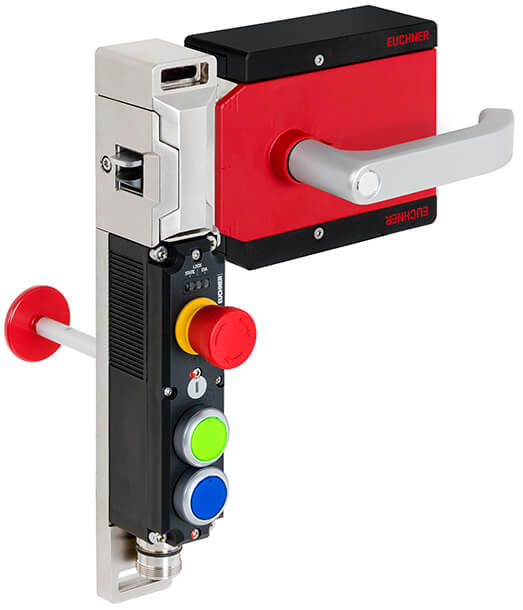 The MGBS combines the best of Euchner's ground breaking MGB and CTP. The MGBS uses RFID technology in the actuator thus avoiding the possible use of cheater keys. With multiple options available, the MGBS can easily integrate into various perimeter and machine guarding designs. It is available in power-to-lock and power-to-unlock versions for guard locking applications as well as a non-locking version for applications requiring only interlocking. The MGBS is loaded with features: slim design, integrated lock out bar, connector at the bottom of the switch for easy wiring, and operator controls.
Benefits and Features:
Slim design suitable for tight spaces like inside corners and outside corners
One switch = One solution: door handle, switch, door stop.
Options for operator controls and an escape release are available.
Locking force of 3,900 N
Complies with all the requirements of EN ISO 14119
Category 4 / PL e according to EN ISO 13849-1.
The MGBS is the ideal solution wherever a slimline switch housing is advantageous.
---
Standard Electric Supply Co. is a family-owned distributor, built on delivering outstanding service. For over 100 years, Standard Electric has been the best at what they do; delivering top-quality products, outstanding service, and providing value-added services to customers across the Midwest. Visit standardelectricsupply.com to see how Standard Electric can become the solution to your needs.