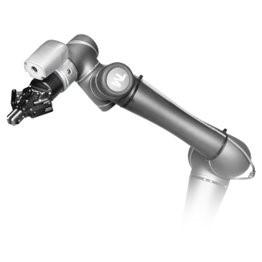 More companies are seeking the same reliable and consistent labor found in robotic manufacturing, but modified to fit the confines of a human-centric work space. This industrial need is where cobots come in. These "collaborative robots" are fitted with safety sensors to allow robots to work independently as well as in conjunction with humans - without the need for barriers.
The Techman Robot is a powerful and essential cobot, tackling many of the issues companies run into with tedious and monotonous jobs. It allows workers to take a step back and focus on other tasks that can increase revenue and streamline production.
Why Do You Need a Techman Cobot?
Shareable Work Spaces
Techman Robots are built to share work space with humans and operate collaboratively opposed to most independent industrial robots. This eliminates the need for expensive fencing and guarding systems that can be found with other robotics.
Programming and Installation
Cobot programming has never been easier with Techman's TMflow and manual positioning. The built-in vision system allows the cobot to perform orientation and inspection tasks, seldom performed by robots.
Portability
The Techman Robot is not a stagnant permanent feature of your production cycle. Each cobot is conveniently portable in order to transfer to different areas of your facility. With a variety of end-of-arm tooling options, your cobot can be placed in a new environment to perform a new task quickly.
Repetitive Tasks
Cobots were designed to combat monotonous tasks that lead many humans to strain or injury over a period of time. The ability for cobots to repeat tasks with little to no wear and tear, makes Techman's Robot a valuable addition to any work space.
Increased Productivity
When monotonous tasks are occupied by cobots, this gives an opportunity for workers to perform more productive tasks that create higher output and returns.
---
Standard Electric Supply Co. is a family-owned distributor, built on delivering above standard service. For over 100 years, Standard Electric has been the best at what they do; delivering top-quality products, outstanding service, and providing value-added services to customers across the Midwest. Visit standardelectricsupply.com to see how Standard Electric can become the solution to your needs.