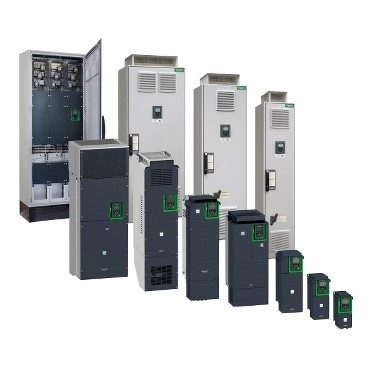 Standard Electric and Schneider Electric are introducing the ATV600 Drive series. Schneider Electric recognizes the use of AC drives in the Water/Waste Water industry is constantly increasing and widely used from water production and distribution to wastewater pumping in sewage canalization systems.
The Altivar Process ATV 600 variable speed drives are the best and most efficient control method.  Why? They save energy and decrease water emissions while minimizing total operating costs. They also reduce maintenance costs by acting as soft starters when applied to electric motors by reducing the stress on bearings, motor windings, housings, and other equipment. When sized correctly, one variable frequency drive can be set up to operate several wastewater pumps in sequence.
Variable frequency drives for soft starting electric motors eliminate high starting currents and voltage dips that would normally cause breakers to trip. When a wastewater pump is turned off or if the water demand is reduced, a variable frequency drive can slowly reduce the speed of the pump to avoid water hammering, stress on pumping equipment and electric motor parts. This results in an extended lifetime of wastewater pumps and electric motors.  A pump running at half its rated RPM consumes as little as one-eighth of the energy compared to a pump running at full-rated RPM. Best of all, energy bills can be reduced by approximately 60-percent!
Features:
Power Range:  1HP – 1100HP
Main Voltage Range:  230V – 460V – 690V
Overload Capacity:  110% for 60 sec normal duty; 150% for 80 sec HD.
Motor Types:  Asynchronous, synchronous, PM
Embedded DC-chokes providing 40% THDI
Optional 3-level technology for less than 3% THDI>100HP
I/Os:  3 AI, 2 AO, 6 DI, 3 Relays
ATV 600 Drives have embedded services, connectivity, and application functions dedicated to fluid management and are suitable for applications such as pumps, fans, and compressors fitted for the Water/Waste Water industry.
To learn more about Schneider Electric's ATV 600 Drives or their complete lines or drives, click the link below and your Account Manager will be in touch.
---
Standard Electric Supply Co. is a family-owned distributor, built on delivering outstanding service. For over 100 years, Standard Electric has been the best at what they do; delivering top-quality products, outstanding service, and providing value-added services to customers across the Midwest. Visit standardelectricsupply.com to see how Standard Electric can become the solution to your needs.
Sharing this post