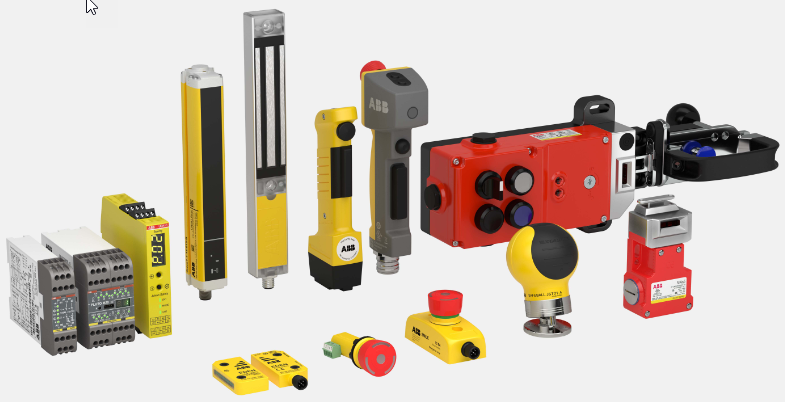 Standard Electric and ABB are introducing the Jakob Line of Safety products. The Jakob Line of Safety products is unrivaled, as they provide an extensive range of innovative products and solutions for machine safety systems. Whether it's a single machine or an entire production line, ABB's safety products have you covered.
The Jokab LineStrong series of pull wire emergency stops switches are compact and can be mounted to machines with sections not protected by guards. LineStrong emergency stop switches excel over traditional mushroom head style stop switches by allowing emergency shutoff along the entire length of the wire.
LineStrong series of emergency stop switches are made of a rugged die-cast housing with an IP67 to IP69K rating. The module's double sealed housing makes it suitable for the food and chemical processing industries. The durability of the LineStrong housing is made possible by a double seal lid and gasket system that holds up to high pressure and temperature.
The LineStrong1 is a compact, yet robust die-cast Mini Duty Safety Rope Pull switch designed to protect short conveyor lengths where protection is required up to 50 meters using two switches, or up to 30 meters using a single switch. LineStrong1 provides reliable, cost-effective safety solutions for conveyor systems and can be enhanced by adding external mushroom Type E Stope at the switch or bi-color LED available to show switch status from a distance. LineStrong1 has 4 pole contact to ensure flexibility with all modern control applications, Rugged integral sealing bellows means they can be high pressure hosed.
The LineStrong2 is a General Duty Safety Rope Pull switch designed to protect long conveyor lengths up to 100 meters. The Stainless Steel 316 housings are designed specifically to withstand the tough environments found in the Food and Pharmaceutical Industries. The fixing holes are under the cover of the switch to prevent food trap areas. LineStrong2 are all-purpose switches and will survive chemical and detergent washdown by providing all stainless-steel parts and robust IP67 and IP69K sealing by using integral bellows and gaskets. In other words, the LineStrong2 gives you all the Linestrong1 features and more!
For the most extreme environments, LineStrong3 provides all the features mentioned above regarding the other two products in this series and extends the wire coverage to a staggering 200 meters! Additionally, the emergency stop command can be initiated from any point along the wire, which gives better access to the emergency stop function than using emergency stop buttons.
Take the worry out of the equation with ABB's seasoned experience in safety products. Click here to download Jokab's main catalog.
Features & Benefits:
Boasts incredible durability in even the harshest conditions.
Small design allows it to be mounted almost anywhere.
Emergency stops can be initiated anywhere along the wire's length
Protection offered from IP67 up to IP69K
Perfect for the food or chemical processing industries
To learn more about ABB's Jakob Line of Safety products, click the link below and your Account Manager will be in touch.
---
Standard Electric Supply Co. is a family-owned distributor, built on delivering outstanding service. For over 100 years, Standard Electric has been the best at what they do; delivering top-quality products, outstanding service, and providing value-added services to customers across the Midwest. Visit standardelectricsupply.com to see how Standard Electric can become the solution to your needs.
Sharing this post