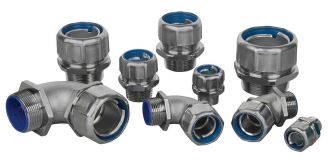 Standard Electric and ABB T&B are offering Nickel-Plated Brass Liquid-Tight Fittings, a cost-effective alternative to aluminum and 316 stainless steel fittings, now available in straight sizes 2½ to 4 inches. Just like brass knuckles were designed to preserve and concentrate a punch's force, the Nickel-Plated Brass Liquid-Tight Fittings are designed to "deliver a punch" whenever severe corrosive protection is required for various industries, including water and wastewater, food and beverage, salty environments, chemical processing, etc. The great thing about brass is that it is second to none when it comes to corrosion resistance. Not even the nastiest corrosive water will cause corrosion in brass.
Features & Benefits:
Safe-Edge® ground cone provides superior bonding
Gland nut design deflects water away from the connector and prevents pooling of liquids
Double-bevel sealing ring eases assembly and ensures liquid-tight performance.
Insulated throat helps protect wire jackets against damage
All T&B Liquid-Tight Systems fittings and conduits are now CE certified to IEC Standards. Click here to download the main brochure.
To learn more about ABB's Nickel-Plated Brass Liquid-Tight Fittings, click the link below and your Account Manager will be in touch.
---
Standard Electric Supply Co. is a family-owned distributor, built on delivering outstanding service. For over 100 years, Standard Electric has been the best at what they do; delivering top-quality products, outstanding service, and providing value-added services to customers across the Midwest. Visit standardelectricsupply.com to see how Standard Electric can become the solution to your needs.
Sharing this post