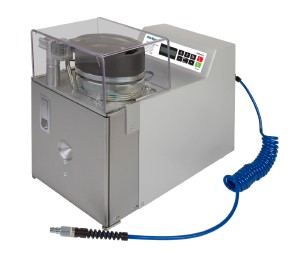 Standard Electric and ABB are offering the Sta-Kon Benchtop Crimping Tool providing efficient processing of loose wire end sleeves with plastic collars in 6–12 mm lengths. Featuring an intuitive LCD control panel and feeder bowl design, it also uses loose ferrules which greatly reduce the contact resistance between the wire and connector. It even helps cut down on the oxidation in the strands because of the lack of air space between them. No special pieces are required, and cycle time and receiver swaps are quick and easy.

Features & Benefits:
Ability to strip and crimp
Crimps 24–8 AWG or 0.25-10 metric wire (using correct toolkit a base device)
Quick tool changeover from different gauges
Easy bowl transfer
Compressed air connection 65 psi (4.5 bar) to 87 psi max (6 bar)
Standard electrical plug
Main connection 120 V, 60Hz/230 V, 50Hz
Net weight 62 lbs
Programmable countdown function stops crimping when desired number of installations made
Adjustable feeder bowl speed
Wide range of options to serve any DC motor application
ABB Sta-Kon Benchtop Crimping Tool ensures reliable operation due to its premium components in combination with its robust construction.
Click here to download the ABB Sta-Kon Benchtop Crimping Tool data sheet.
To learn more about the ABB Sta-Kon Benchtop Crimping Tool, click the link below and your Account Manager will be in touch.
---
Standard Electric Supply Co. is a family-owned distributor, built on delivering outstanding service. For over 100 years, Standard Electric has been the best at what they do; delivering top-quality products, outstanding service, and providing value-added services to customers across the Midwest. Visit standardelectricsupply.com to see how Standard Electric can become the solution to your needs.
Sharing this post