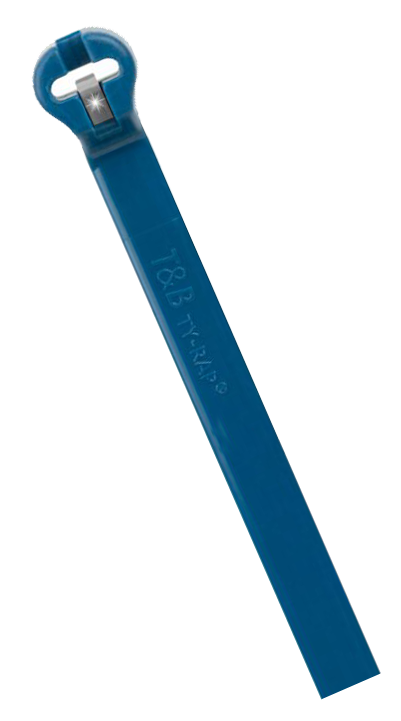 Standard Electric and ABB are introducing the first two-piece cable tie, the Ty-Rap TyGenic Antimicrobial Detectable Tie, which is both antimicrobial and detectable. This breakthrough fastening solution meets the health and safety needs of the contamination sensitive industries. This new tie is molded from an FDA-compliant proprietary nylon resin blend that contains both an EPA-registered antimicrobial additive and detectable particles. The antimicrobial additive is effective against a broad spectrum of micro-organisms, including various bacteria, viruses, protozoans, and fungi, such as mold and mildew.

Features & Benefits:
Inhibits microbial growth while also delivering x-ray, metal, and visual detectability
Provides a surface on which microbes cannot adhere and replicate
Proven to be more than 99% effective in prohibiting common surface microbes from forming on the cable tie as tested by an independent laboratory
Made from an FDA and EU food contact-approved, halogen-free nylon 6.6 (polyamide) resin blend
UL recognized and RoHS compliant
The detectable particles in the Ty-Rap TyGenic Antimicrobial Detectable Cable Ties help ensure that cable ties won't end up in products/goods and remain undetected.

Click here to download the full datasheet.
To learn more about the ABB Ty-Rap TyGenic Antimicrobial Detectable Cable Tie, click the link below and your Account Manager will be in touch.
---
Standard Electric Supply Co. is a family-owned distributor, built on delivering outstanding service. For over 100 years, Standard Electric has been the best at what they do; delivering top-quality products, outstanding service, and providing value-added services to customers across the Midwest. Visit standardelectricsupply.com to see how Standard Electric can become the solution to your needs.
Sharing this post