Contributing author: Tom O'Gara, Business Development Manager at Remke Industries
Failure of a single electrical connector can stop production in a split second. Repair time depends mainly on the type of connection that is used. The right connector can make repair time a matter of minutes, versus several hours of hardwiring. The right cord grip, cable gland, or connector can also help to prevent failure in the first place.
Once the right technical foundations, such as AWG and OD, are selected, look at the application itself. Ruggedized connectors withstand the environment better, with strong protection against the elements that are often the point of failure.
These first four points are critical to choosing the right electrical connector for industrial-strength reliability. Never ignore or estimate any single factor to ensure connections won't be compromised over time.
Wire gauge (AWG)
Cable outside diameter (OD)
Number of contacts
Maximum voltage and current
Once the foundations have been defined, assess the environment in which the connector will be used. Types of applications of environments might include:
Dry, indoor environments
Harsh environments with extreme temperatures
Wet and submerged applications
Vertical runs
Chemical environments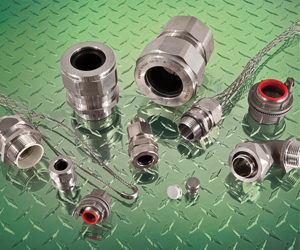 The final point to consider when selecting the right connector is its scalability to future changes. The broad range of sizes and options from Remke allow data centers, and all types of industrial facilities, to get the reliable connectivity they demand for the long-term.
Review Remke's Ultimate Guide the Cable Strain Relief by clicking HERE.
If you need help selecting the correct cable connector, contact your Standard Electric Supply Co. account manager or call us at 1-800-318-4618.