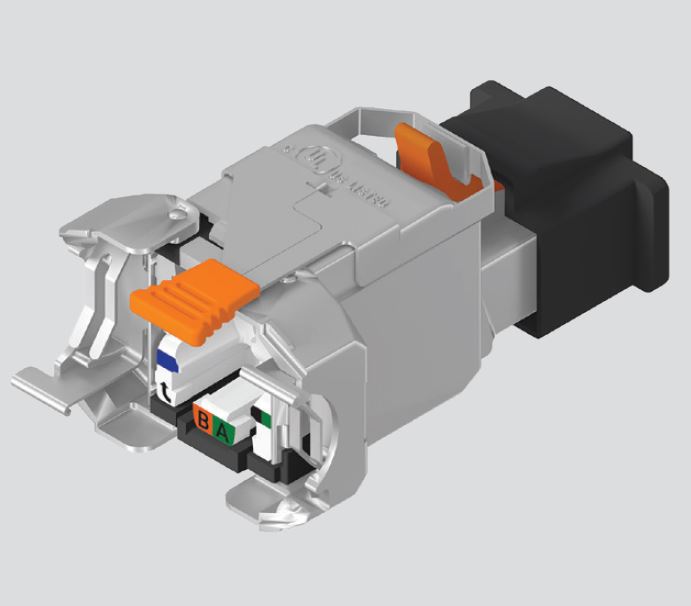 Standard Electric and Belden are offering a wide range of high-quality reliable RJ45 connectors for efficient field termination. Field termination of Ethernet cables can be time-consuming. Belden's Industrial REVConnect RJ45 connectors are the essential solution to deliver a faster, simpler, universal cable termination solution, complete with a unique insulation piercing mechanism. They are manufactured specifically to withstand exposure to harsh elements in the field, and they are ideal for use in any industrial application requiring an easy-to-use field-termination solution. Additionally, Belden is now offering a new DIN-Rail mounting fixture specifically for Industrial REVConnect jacks.

Features & Benefits:
Long-term reliability in the field due to insulation piercing mechanism
Ability to withstand exposure to harsh elements, including noise, vibration, and extreme operating temperatures
Time saving
Compatible with any IoT device using an RJ45 plug and can be switched from a jack to a plug (or vice-versa) without having to re-terminate
When installing a new network in machine building or other applications where there is a relatively high volume of terminations to be done at once or on an ongoing basis, Belden connectors are a must!
Click here to download the Belden RJ45 Connectors data sheet.
To learn more about the Belden RJ45 Connectors, click the link below and your Account Manager will be in touch.
---
Standard Electric Supply Co. is a family-owned distributor, built on delivering outstanding service. For over 100 years, Standard Electric has been the best at what they do; delivering top-quality products, outstanding service, and providing value-added services to customers across the Midwest. Visit standardelectricsupply.com to see how Standard Electric can become the solution to your needs.
Sharing this post