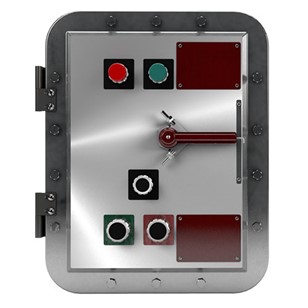 Standard Electric and Eaton Crouse-Hinds are offering the EIC Motor Control Combination Starters for (1) Class I areas that deal with flammable gases, vapors, and liquids, and (2) Division 1 and 2 areas where flammable materials are handled, processed or used in a defined hazardous location.  Numerous industries, such as refineries, chemical and petrochemical plants, corrosive process facilities, food and beverage, and marine and mining need every advantage they can get to operate efficiently and safely in harsh and hazardous areas.  The EIC Motor Control Combination Starters valued series are the easy-to-use solution for panel shops, skid builders, and other original equipment manufacturers (OEM) applications.

Features & Benefits:
Across-the-line starting and stopping of polyphase AC induction motors with overload protection
Factory machined drilled and tapped entries up to 3-inl diameter
Factory drilled and tapped field removable mounting plate
Two nameplates for easy identification and on-site customization
Five combination starter sizes
Three enclosure sizes with four operator positions
Populated versions built to order
Regardless of the industry, application, or geography, the Eaton EIC Motor Control Combination Starters are the solution needed to meet your requirements and specifications.
Click here to download the 105XBRM Series Data Sheet.
To learn more about Eaton Crouse-Hinds Motor Control Combination Starters, click the link below and your Account Manager will be in touch.
---
Standard Electric Supply Co. is a family-owned distributor, built on delivering outstanding service. For over 100 years, Standard Electric has been the best at what they do; delivering top-quality products, outstanding service, and providing value-added services to customers across the Midwest. Visit standardelectricsupply.com to see how Standard Electric can become the solution to your needs.
Sharing this post