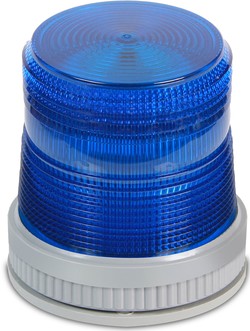 Standard Electric and Edwards Signaling are offering the 105XBRM Series "XTRA-BRITE" LED Beacons that are ideally suited for the Paper and Pulp Industry's challenging environmental conditions.  These beacons are heavy-duty, multi-mode signaling devices. They are available in steady-on mode with the additional built-in option of switching to flashing mode via a dipswitch.  These signals are designed for use where a NEMA Type 4X enclosure is required. The base is manufactured from glass-reinforced thermoplastic polyester resin, and the double Fresnel lens is made of shatter-resistant polycarbonate. 

Features & Benefits:
Multi-mode (flashing or steady-on)
LED light source (brighter cluster)
Flash rate 65 fpm
Gray Rynite® (PET) base
UL listed for marine applications
Class I, Div 2, Groups A, B, C, and D; Class II, Div 2, Groups F and G; Class III
Operating temperature range:  -31°F to 150°F (-35C° to 66C)
Immune to shock and vibration
Normal service life of 148,000 hours
The 105XBRM Series has three different configurations for mounting that include the 105BX junction box, the 105BM mounting bracket, and the 105PM pipe mount attachment. The unit can be mounted on ¾" NPT using the 105PM pipe attachment.  It can also be surface mounted using the 105BX junction box, or wall-mounted using the 105BX junction box with the 105BM mounting bracket.  All three mounting options are non-conductive plastic fixtures and do not provide earth-ground continuity when attached to metallic wiring systems. They are intended for use with the 105XBRM visual signals only when earth-grounding is not required. They can only be used with metallic wiring systems when installed at the end of the run.
Click here to download the 105XBRM Series Data Sheet.
To learn more about the Edwards Signaling 105XBRM Series "XTRA-BRITE" LED Beacons, click the link below and your Account Manager will be in touch.
---
Standard Electric Supply Co. is a family-owned distributor, built on delivering outstanding service. For over 100 years, Standard Electric has been the best at what they do; delivering top-quality products, outstanding service, and providing value-added services to customers across the Midwest. Visit standardelectricsupply.com to see how Standard Electric can become the solution to your needs.
Sharing this post