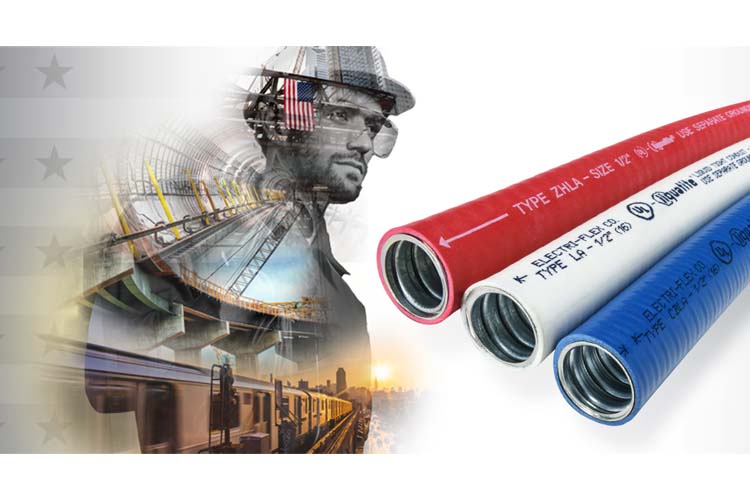 Standard Electric and Electri-Flex are offering a wide variety of conduit types that are MADE IN THE USA. Liquatite conduits provide solutions for high and low-temperature environments and are halogen-free or low smoke installations. They solve design challenges for many applications including data centers, transit, rail bridges, airports, ports, utility, defense, and other key infrastructure installations. Electri-Flex Liquatite Conduits are also sourced from American Made materials. Therefore,they are both Buy America and Buy American (ARRA) Compliant.
Features & Benefits:
More convolutions per foot than other conduit— more steel per foot for greater crush strength
Advanced Quality Control—ensuring precise I.D./O.D. tolerances for a superior liquid-tight connection
Patented Flexi-bond for non-sleeving, non-wrinkling jacket—improving performance and appearance and prevents unraveling
Square locked and Interlocked inner metallic strip—provides added mechanical strength
Electri-Flex's assortment of domestically produced products are in ample supply, as Standard Electric is proactive when it comes to providing our valued customers with what they need as soon as possible. We have you what you need, in stock!
To learn more about the Electric-Flex Liquatite Flexible Conduits and more, click the link below and your Account Manager will be in touch.
---
Standard Electric Supply Co. is a family-owned distributor, built on delivering outstanding service. For over 100 years, Standard Electric has been the best at what they do; delivering top-quality products, outstanding service, and providing value-added services to customers across the Midwest. Visit standardelectricsupply.com to see how Standard Electric can become the solution to your needs.
Sharing this post