Contributing author: Nathan Xavier, Systems Consultant, Rittal North America
Water management involves planning, developing and distributing our valuable water resources. Using stainless steel enclosures that resist corrosion and maintaining energy efficiency are important parts of a successful water management program.
Stainless Steel Enclosures
By definition, stainless steel is a metal alloy containing at least 10.5% chromium by mass. In a process known as passivation, the chromium within the metal forms a very thin layer of chromium oxide when exposed to oxygen. This layer continually protects the metal beneath and spontaneously regenerates if the surface is scratched.
Applications such as water management are ideal for stainless steel enclosures. The use of Type 304 stainless steel is sufficient in most areas, however some treatment plants use chlorine gas to disinfect water and sulfur dioxide to remove residual chlorine. Combined with the naturally humid environment of the plant, these gases are highly corrosive to Type 4 stainless steel so the increased resistance of Type 316L is required. In some cases, in an effort to be more environmentally friendly and reduce chemical usage, municipalities are turning to ultraviolet (UV) treatment to purify water. Type 304 stainless can be used in this application since there are no chemicals introduced to the surrounding environment of the enclosure.

Stainless Steel Enclosures and Industrial Applications
It is important to note that neither Type 304 nor Type 316 stainless steel will resist the chemical corrosion caused by hydrochloric acid. The acid will destroy the passivity, leaving the surface of the metal defenseless. The following chart shows how Type 304 and Type 316 stainless steels react with some of the chemicals present in common application environments.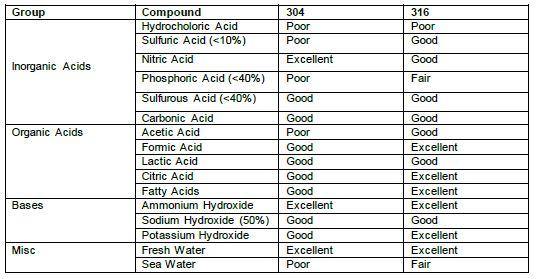 Stainless steel has proven to be a relatively low-cost material that can protect electrical equipment in a variety of different industries and application settings. The durability of stainless steel depends greatly on the steel grade, surrounding environment and surface finish. Type 304 stainless steel is the common solution where mild corrosion is a concern, while harsher environments will require Type 316 stainless steel. As with any application, the chemical concentration and subsequent level of exposure to corrosive elements should be carefully determined and monitored.
The Importance of Raising Awareness to Energy Conservation
Freshwater provision and wastewater treatment have a high energy requirement. Processing and transporting freshwater for household use, agriculture and industry, along with purification of industrial wastewater are associated with high energy consumption.
In the United States, drinking water and wastewater plants consume the most energy – about 30-40% of the total energy consumed by municipalities. When these plants incorporate energy efficiency practices into their plants, municipalities can save 15-30% of their energy usage.
In regard to the planning and design of water and wastewater facilities, we must remember these facilities were built decades ago when energy sources were not a concern. Equipment was made to run continuously with no regard for wasted energy. Even if the amount of wasted energy became known, many managers are reluctant to making changes to avoid the burden of financial risk. It is important to outline the benefits of energy improvements to water/wastewater facilities and provide clear evidence of where the waste exists.
Advanced Cooling from Rittal Helps Save on Energy Costs
Rittal's TopTherm Blue e cooling units are rated NEMA 4X using 316 stainless steel and are tailored for use in water/wastewater applications. These cooling units have multiple mounting position capability on an enclosure, can be used with or without a filter and can save up to 45% in energy consumption. These air conditioners are ready to withstand corrosive elements when paired with a Rittal stainless steel enclosure. Eco-mode precision adjustments with a Comfort Controller keep temperatures stable. Nanotechnology repels dirt, oil and other contaminants from the condenser coils.The advanced cooling technology of the Blue e air conditioner leads to longer service life of the components inside the enclosure and the cooling unit itself.
There are many resources provided online by the U.S. Environmental Protection Agency to help evaluate and reduce operation and maintenance costs (O&M) by clicking HERE. Rittal also provides an array of climate enclosure solutions designed to cut enclosure cooling costs by up to 75%. Learn more by downloading Rittal's Climate Solutions Handbook HERE.
To learn more about how Rittal enclosure solutions can help, contact Andy Schonert at [email protected] or call 888-920-5572.