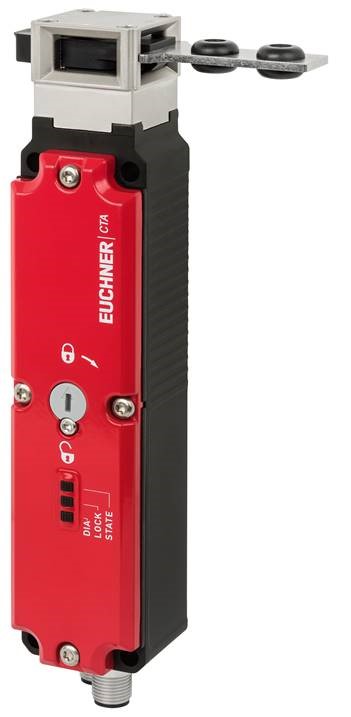 Standard Electric and Euchner are offering the CTP/CTA Safety Switch that combines the proven principle of operation for electromechanical safety switches with guard locking and modern transponder-coded safety engineering. Due to the integrated guard locking and guard lock monitoring, it can be used both for process protection and the protection of workers. Its reliability secures safety doors and flaps on machines and installations.
Thanks to the transponder technology, even a single CTP/CTA achieves Category 4 / PL e according to EN ISO 13849-1, without additional fault exclusion, and meets all the requirements of EN ISO 14119. It is ideally suited for applications in harsh environments and industrial complexes such as the Pulp and Paper Industry where a high-performance level and a high-locking force are required. Another plus is the fact that there are no cavities for dust to accumulate inside the safety switch head.
Features & Benefits:
Integrated insertion funnel
Actuator with integrated transponder
Auxiliary release
Different plug connectors (M12/M23)
Industry 4.0 ready
Immediate diagnostic function
Compact design for space-saving mounting
Up to 20 AR devices can be connected in series/in-a-chain
IP65/IP67/IP69/IP69K degree of protection
Can communicate over IO Link with ESM-CB or GWY-CB
The CTP/CTA Safety Switch communicates via RFID which requires less monitoring and increases productivity. In addition, the information is handled more efficiently with fewer errors as no human intervention is needed to read the data.
To learn more about the Euchner CTP/CTA Safety Switch, click the link below and your Account Manager will be in touch.

Click here to download the datasheet.
---
Standard Electric Supply Co. is a family-owned distributor, built on delivering outstanding service. For over 100 years, Standard Electric has been the best at what they do; delivering top-quality products, outstanding service, and providing value-added services to customers across the Midwest. Visit standardelectricsupply.com to see how Standard Electric can become the solution to your needs.
Sharing this post