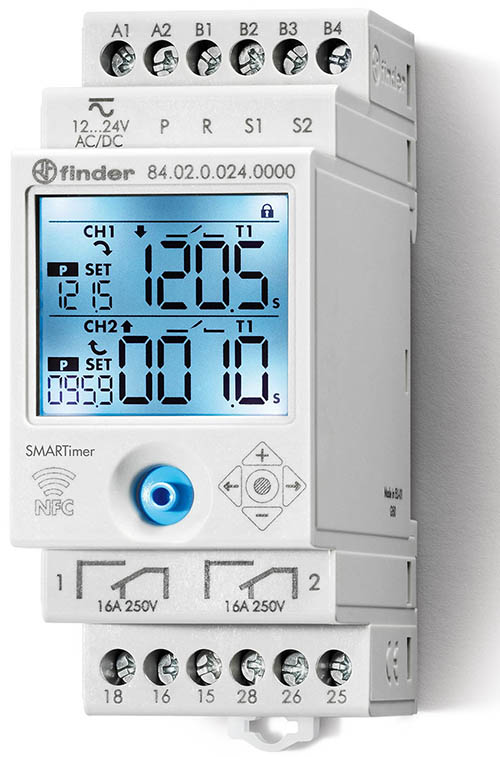 Standard Electric and Finder are offering the 84.02 Series SMARTimer. The digital "2 in 1" SMARTimer provides two totally independent programmable channels in a single product for easier, quicker, and more flexible programming right from your smartphone.  Near Field Communication (NFC) technology and the Finder Toolbox Android App allow programing and access right at your fingertips when you need it. The 84.02 Series SMARTimer provides the medical and pharmaceutical industry with a variety of applications where timing control is a necessity for UV lighting stations, refrigeration, etc., without any additional expense or need to program PLC systems.


Features & Benefits:
Two programming modes: "Smart" or "Classic"
Wide backlit display and large front display
Flexibility to create new specific functions
High precision and choice of time set up
PIN to protect access to programming session
Nominal voltage 110…240 V AC/DC (non-polarized); operating range: 90…264 V AC/DC (47/63Hz)
1 CO (16 A) + 1 CO (16 A) output contacts
To learn more about the Finder SMARTimer 84.02 series, click the link below and your Account Manager will be in touch.
---
Standard Electric Supply Co. is a family-owned distributor, built on delivering outstanding service. For over 100 years, Standard Electric has been the best at what they do; delivering top-quality products, outstanding service, and providing value-added services to customers across the Midwest. Visit standardelectricsupply.com to see how Standard Electric can become the solution to your needs.
Sharing this post