Rittal's climate control solutions offer the ultimate in cooling concepts and energy efficiencies. With products ranging from filter fans to enclosure heaters to thermoelectric coolers, Rittal has 25 years to its name developing these applications that regulate and preserve your equipment. With so many different situations and solutions available, how can you know which option is best for you?
Thanks to the resources available with Rittal, finding the right climate control technology solution has never been easier: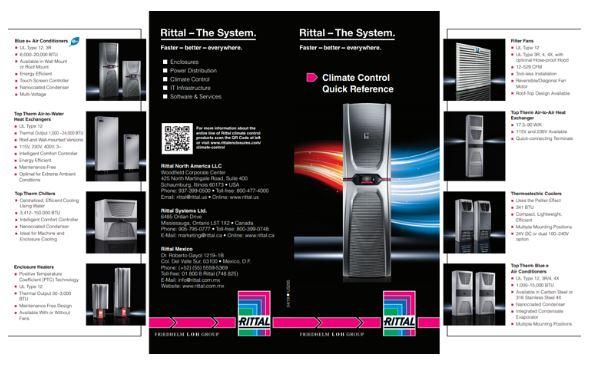 CLIMATE CONTROL QUICK REFERENCE GUIDE
This quick reference brochure breaks down the solutions, product numbers, and specs associated with each heater, chiller, air conditioner, fan, or exchanger that Rittal has to offer. With more than 100 part numbers to chose from, Rittal's Quick Reference Guide is a great first stop to discovering the right climate control solution for your needs.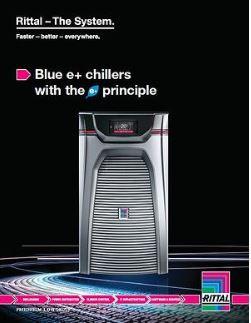 BLUE e+ CHILLERS BROCHURE
Rittal's comprehensive overview of the blue e+ chiller range delivers efficiency explanations, scaled economical savings, and easy-use operations. The blue e+ chiller system uses DC inverter technology that adapts automatically to the load profile of the relevant application saving up to 70% on cooling energy. These needs-based chillers are accessible via remote monitoring and the Blue e+ app that supplies on-site information for decisions on simple repairs, maintenance, and spare parts inquiries.
When it comes to monitoring and protecting the environment in which your equipment lives, Rittal has a wide range of strategic solutions you can execute. When Climate Decisions are on the line, Rittal and Standard Electric's Enclosure Modification Team have the answers for you!
---
Standard Electric Supply Co. is a family-owned distributor, built on delivering outstanding service. For over 100 years, Standard Electric has been the best at what they do; delivering top-quality products, outstanding service, and providing value-added services to customers across the Midwest. Visit standardelectricsupply.com to see 13how Standard Electric can become the solution to your needs.