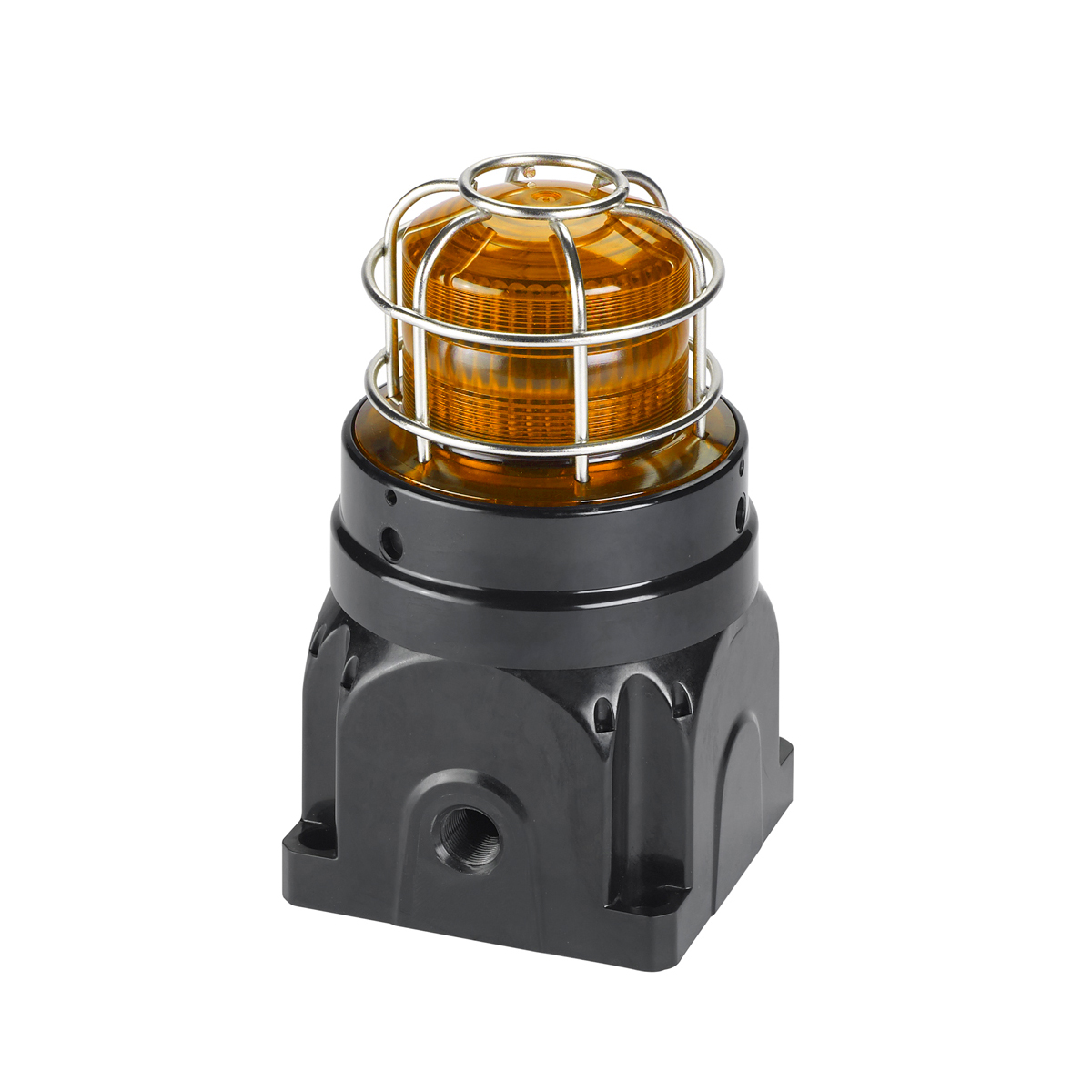 Standard Electric and Federal Signal are now introducing the Global Series® LED Beacons. The Global series is an innovative next-generation product line of Glass Reinforced Polyester (GRP) signals that are modular, aesthetically appealing, and lightweight in design. The GRP housing is UV-stable, lightweight, and corrosion-free. It is designed to serve the demanding needs of industrial applications.
The patented modular housing design allows individual signals to be combined into multi-signal fixtures, which reduces the customer's installation and wiring burden. Coupling kits allow installers in the field to create multi-unit configurations. Multi-signal fixtures with 2-6 signals can be combined into multiple configurations.
The patented Global Series® LED Beacons feature a long-life LED with the ability to select one of eight flash patterns (user-configurable) and offers two lens options (low or high-profile). The device is rated to the latest protection concept, "Ex op is" (inherently safe optical radiation). Global Series® also offers fifteen joule and twenty-one-joule strobes which feature a high-intensity xenon strobe tube.
The Global Series amplified speakers, sounders, and loudspeakers can be combined with all other Global Series audible and visual products in several custom configurations. Sounders are available in explosion-proof Ex versions, increased safety Ex de wiring box versions, and are certified for gas Group IIC environments. Loudspeakers are available as 15-watt devices and are designed to accept an audio input of either 70 Vrms or 100 Vrms (model-specific). Five remotely selectable tap settings are available at each of the high and low volume settings (user-configurable). Amplified Speakers are capable of amplifying audio-level signals from either 0.8, 2.8, or 25 Vrms systems and reproducing them at 15-watt levels
Features & Benefits:
Glass-reinforced polyester (GRP) housing is lightweight and corrosion free
Can be configured into a multi-color/position light
Mounted as a single unit or multi-fixture mounting
Optional 316 stainless steel ratchet adjustable mounting
U-bracket
LED and Strobe Visual products are available as free-standing or can be configured with speakers, sounders, and loudspeakers
Click here to download the full datasheet.
To learn more about the Federal Signal Global Series® LED Beacons, click the link below and your Account Manager will be in touch.
---
Standard Electric Supply Co. is a family-owned distributor, built on delivering outstanding service. For over 100 years, Standard Electric has been the best at what they do; delivering top-quality products, outstanding service, and providing value-added services to customers across the Midwest. Visit standardelectricsupply.com to see how Standard Electric can become the solution to your needs.
Sharing this post