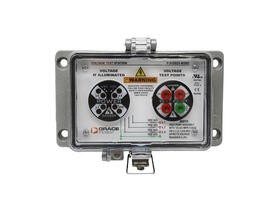 Standard Electric and Grace are offering the Voltage Test Station as a permanent electrical device that allows workers a safer way to verify the absence of voltage from outside the electrical cabinet.  The VTS combines Safe-Test Point™ with a voltage indicator conveniently placed within a protective housing.  It can be hardwired directly to energy sources and allows visual verification and measurement of AC/DC voltages through a meter test.  
Since industrial complexes rely on new technology and best practices to function at an optimum tempo, the Voltage Test Station is an operational necessity. More specifically, the Pulp and Paper Industry due to its extremely complex stages of production where the quality of the product can quickly change with any minor disruption, can enhance its safety protocols, and protect against costly downtimes with the Voltage Test Station.
In addition, the Standard VTS and Knockout VTS are being offered that allow different installation methods. The new Knockout Voltage Test Station makes installation easier with a detailed, magnetic installation template. Simply mount the template onto the desired location of installation and "mark" the knockouts.  The VTS is then installed through two 30mm knockouts with the housing mounted through four bolted connections.
Features & Benefits:
Enhance mechanical and electrical lockout/tagout (LOTO)
Safer & more productive way to perform LOTO
Exceeds NFPA 70E & OSHA Energy Isolation Principle
Available in UL Type 4, 4X & 12 ratings
Automation panels
Stand-alone disconnect switches
Motor control centers
High power control panels
More than ever, qualified operators, engineers, and maintenance workers are harder to locate and recruit.  Businesses are learning to do more with less.  The Grace Permanent Electrical Safety Voltage Test Station can enhance a facility's electrical safety program as they work to confront common safety procedural issues to reduce risks by providing a safer and more productive method of verifying energy isolation.  
Click here to download the Grace Voltage Test Station product brochure.
To learn more about the Grace Voltage Test Station, click the link below and your Account Manager will be in touch.
---
Standard Electric Supply Co. is a family-owned distributor, built on delivering outstanding service. For over 100 years, Standard Electric has been the best at what they do; delivering top-quality products, outstanding service, and providing value-added services to customers across the Midwest. Visit standardelectricsupply.com to see how Standard Electric can become the solution to your needs.
Sharing this post