Contributing author: Shannon Evans, Channel Marketing Coordinator at Grace Engineered Products, Inc.
In 1993, while working on a friction welder retrofit project at John Deere, Ed Allen was presented with a hazardous electrical safety issue. The machine I/O was located in the front while the electrical panel with a 250-horsepower drive and a 400-amp main feed was inconveniently located at the rear of the machine. Ed collaborated with his brother, Phil Allen, on the first solution. Over the next several years, Phil would go on to create the model that builds any combination, known as the GracePort today.
Back at John Deere, the only way to access the machine for maintenance was to open the doors, but the maintenance supervisor understood this caused a potential hazard. The supervisor insisted that they keep those doors closed to avoid an electrical shock or arc flash hazard. Ed and Phil were therefore challenged to find a work-around to resolve this issue by putting a PLC programming communication port on the operator console where all the I/O were located.
The engineers at Grace accepted the challenge and responded with a panel interface connector that contained a printed circuit board and cable solution. With this, the team at Grace created a solution for thru-door access that is still as relevant today as it was over twenty years ago. They housed the programming port in a UL Type 4 rated, rectangular connector enclosure and presented it to the customer. Phil named the achievement GracePort.
Graceport® is fully customizable, offering the ability to change any component and any power option. The customize section in their part number layout allows customers to specify additional needs including printing their own customer logos, special text, cable lengths, and hole cut-outs.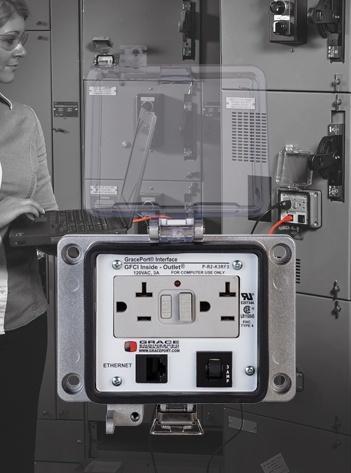 Going beyond their standard housing units, Grace also offers an enlarged version called the GracePort+. This enlarged panel interface connector comes in a UL recognized large housing that can protect Human Machine Interfaces (HMIs) and other valuable electrical components with the added benefit of including GracePESDs that include voltage indicators, portals, and more.
Grace also has three different stainless-steel housings available as options for your custom GracePort. It should also be noted that you can select a stainless-steel option for the popular GracePESD, the Voltage Test Station. Here are the three housing options for ultimate protection:
M5 Housing with Stainless Steel #304 - UL Recognized Type 4X
M6 Housing with Stainless Steel #316 - UL Recognized Type 4X
JB7 Housing with Stainless Steel #304 - NEMA Type 4
GracePort stainless-steel protect all the components, circuit breakers, and power options featured on our fully customizable GracePort. By placing components within a protective stainless-steel housing, qualified personnel can ensure ultimate protection within corrosive environments so they can continue to program safely through closed doors.
Visit the Grace Engineered Products Knowledge Base to read more GracePort® articles.
If you have additional questions, contact your Standard Electric Supply Co. account manager or call 1-800-776-8222. See our full line of Grace Engineered Products.