Standard Electric and Schneider Electric are offering the Harmony XPS Safety Modules that manage more diagnostics and status information without extensive hardwiring. This offering is Schneider Electric's response to the growing demand for more advanced and detailed diagnostic information for simple to complex machines. The Safety Modules provide more than 40 different messages on the status of safety functionality via a single hardwired connection to the digital input of the machine controller. The Modules are ready for use with predictive maintenance. When incorporated with a smart auxiliary output, the Safety Modules with function blocks, provide information about upcoming test cycles and when they will reach the end of their lifetime.
The Harmony XPS Safety Modules can manage more than 40 messages, using a single hardwired connection, by sending modulated signals to the machine controller. The machine builder includes two function blocks in the machine controller's program for decoding the signals (one for diagnostic information and another for status information). A library provides functions blocks for all programming systems of Schneider Electric's controllers and for the programming systems of the most common controllers on the market.
Features & Benefits: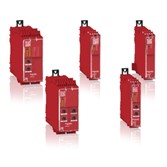 Stops machine when the risk seems "to realize" or "has realized"
Monitors hands to allow movement or enabling switch for limited speed
Monitors machine guards to allow movement
Monitors light curtain, etc. to stop the machine with short stopping time
Monitors input devices to initiate controlled stop for a machine with inertia
Safety is by choice, not by chance, and the Schneider Electric Harmony XPS Safety Modules are the "first choice" when it comes to managing safety functions.
Click here to download the datasheet for more information.
To learn more about Schneider Harmony XPS Safety Modules, click the link below and your Account Manager will be in touch.
---
Standard Electric Supply Co. is a family-owned distributor, built on delivering outstanding service. For over 100 years, Standard Electric has been the best at what they do; delivering top-quality products, outstanding service, and providing value-added services to customers across the Midwest. Visit standardelectricsupply.com to see how Standard Electric can become the solution to your needs.
Sharing this post