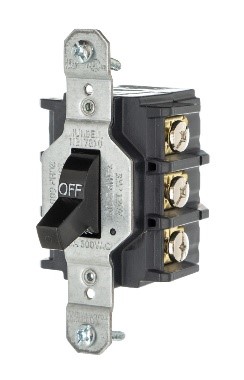 Standard Electric and Hubbell are proud to present the 30A Manual Motor Controller for standard FD boxes with #10AWG. The size of this new design compacts the 30 A by  34%, allowing a simple and irresistible installation process. This new controller is ideal for industrial fans, agricultural irrigation, and general construction applications just to name a few.
Features & Benefits:
Up to 20HP rating
Minimum of 6,000 cycles
10kA SCCR when protected by 60A RK5 fuse
Listed to UL 60947-4-1 (supersedes UL 508)
 
Upon inspection, you discover the amount of open space available for additional applications, such as increased wire capacity and wiring room, and an overall improvement in ease of installment. Additionally, when the 30A is protected by a 60A RK5 fuse, the circuit rating lands at 10 kA, which doubles the expected performance.
What else is there to say, but, "More Room, Less Problems".
To learn more about the 30A Manual Motor Controllers from Hubbell, click the link below and your Account Manager will be in touch.
---
Standard Electric Supply Co. is a family-owned distributor, built on delivering outstanding service. For over 100 years, Standard Electric has been the best at what they do; delivering top-quality products, outstanding service, and providing value-added services to customers across the Midwest. Visit standardelectricsupply.com to see how Standard Electric can become the solution to your needs.
Sharing this post