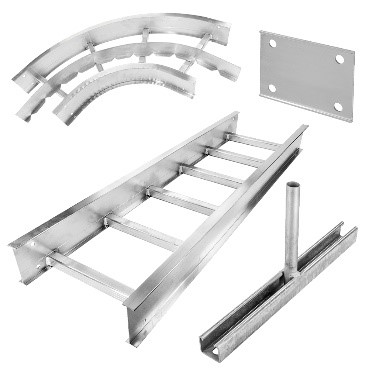 Standard Electric and Hubbell are pleased to announce the new Aluminum Ladder Tray system. The system is a highly effective indoor and outdoor cable and piping distribution management solution. The Aluminum Ladder Tray will provide your customers with optimum protection and accessibility for infrastructure components without sagging, or the need for secondary supports. Potential customer markets include chemical plants, pharmaceutical operations, offshore oil platforms, data centers, distribution centers and warehouses, power substations, large campuses with central power and operation strategies, and manufacturing facilities of all kinds.
Features & Benefits:
Listed to NEMA VE 1 to allow for maximum spans and weight loading
For use indoors and outside in harsh environments
Rungs are welded to stringers for strength and continuity
The system is part of a complete Hubbell solution for our customers' wire, cable, hose, and piping support needs. Now you can specify all levels of solutions including light-duty telco ladders, medium-duty wire basket trays, and heavy-duty aluminum ladder trays all on a single invoice.
To learn more about Hubbell's Aluminum Ladder Tray, click the link below and your Account Manager will be in touch.
---
Standard Electric Supply Co. is a family-owned distributor, built on delivering outstanding service. For over 100 years, Standard Electric has been the best at what they do; delivering top-quality products, outstanding service, and providing value-added services to customers across the Midwest. Visit standardelectricsupply.com to see how Standard Electric can become the solution to your needs.
Sharing this post