Standard Electric and Hubbell are offering Circuit Lock Motor Disconnects specifically designed to meet the challenges of the Pulp and Paper Industry. The industry requires electrical devices that can stand up to water, corrosive environments, dust, grit, etc., and this product is a perfect fit. Since the Lock Motor's operating performance of controller and disconnect is with one switch, safety and optimum uptime and productivity are also increased. Motor controllers activate motor loads on and off and isolate equipment from other loads as needed. Disconnects safely terminate circuit power to equipment for easy servicing. In addition, they have been tested to withstand high fault short circuits to remain operational following overloads.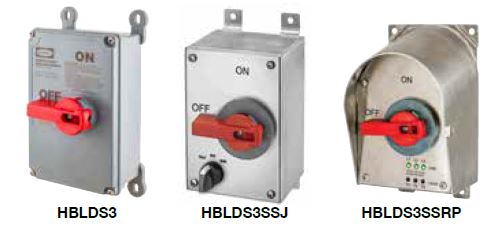 Features & Benefits:
Rated to withstand 10,000-amp high fault short circuits for maximum safety
Smaller-sized switches & variety of NEMA type enclosures
NEC conformance
Top horsepower & high amperage ratings
High visibility red handle seen across the plant floor
Meets OSHA lock-out/tag-out standards
Flexible/contract communication options available
Hubbell's innovative Circuit-Lock product line exceeds all industry requirements to ensure premium performance. Available as a component switch or preassembled into a variety of NEMA-rated enclosures. Circuit-Lock motor controllers/disconnects provide both the size and fit for maximum flexibility and efficiency. They literally can be used in a variety of areas, such as washdown areas, conveyors, and even outside. Click here to download the brochure for more information on Hubbell's Circuit Lock Motor Disconnects.
For more information on Hubbell's Paper & Pulp Solutions, click here to download the brochure.

To learn more about the Hubbell Circuit Lock Motor Disconnects, click the link below and your Account Manager will be in touch.
---
Standard Electric Supply Co. is a family-owned distributor, built on delivering outstanding service. For over 100 years, Standard Electric has been the best at what they do; delivering top-quality products, outstanding service, and providing value-added services to customers across the Midwest. Visit standardelectricsupply.com to see how Standard Electric can become the solution to your needs.
Sharing this post