Contributing author: John Carnevale, Food & Beverage Vertical Market Manager with Rittal
Strict sanitation measures are required in the food and beverage industry. Machines, systems and their components need to be quickly and easily cleaned, particularly in open processes. Longer downtimes are unavoidable due to these strict cleaning processes as machinary with open cavities are dirt traps that pose a breeding ground for germs. Horizontal surfaces, where water cannot run off properly, also create conditions for contamination. In addition the cleaning process itself creates problems as the high pressure and high temperature water used leads to enclosure gasket failure allowing water into the enclosures. Downtimes during production present the worst situation for plant operators, as it means lower productivity and, consequently, reduced sales. Hygienic Design enclosures are IP69K rated and keep water out of the enclosures, thus offering numerous advantages over conventional enclosures and have become the standard housing for electrical controls because they promote rapid cleaning and prevent contamination.
Hygiene and Hygienic Design
Hygienic design means one thing above all: Provisions for simple and thorough cleaning of everything that could come into contact with food particles – from the machine to its enclosure. It is especially important to avoid dead spaces, undercuts of any kind, as well as joints without radius, since such joints are particularly prone to product residue accumulation, which in turn represent an ideal substrate for microbial contamination. For the same reason, surfaces with recesses such as the uncovered threads of screw connections, or screw heads with internal hexagons (Allen screws) or Torx screws are not allowed. Corners and joints must be smooth, gap-less and cleanly rounded. To ensure that sprayed water is able to run off the surfaces of housings and enclosures in spray and wet zones, appropriately angled drain slopes must be provided.
The Rittal Hygienic Design (HD) enclosure complies with NEMA 4X, IP66 and one of the most important to the Food & Beverage industry is the IP69K rating. IP69K insures that water will not enter the enclosure under high temperature wash down applications. They have been meticulously designed to meet the requirements of the National Sanitary Foundation (NSF) and adhere to the ten principles of sanitary design. The enclosures are constructed of 304 stainless steel with a 400 grain brushed surface, which means a high resistance to corrosion, chemicals, cleaning agents and disinfectants.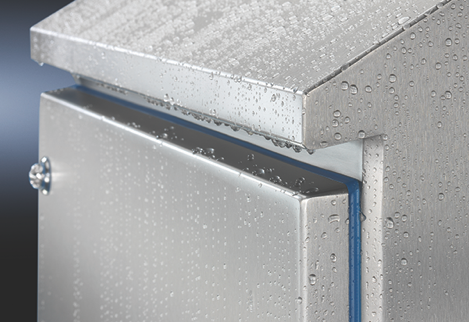 There are many features that make Rittal's Hygienic Design enclosure the product of choice for Food and Beverage applicaitons. The internal hinges and special key lock make these enclosures exceptionally easy to clean and resist the growth of micro-organisms. The roof of HD compact enclosures tilt forward by 30° which allows liquids to run off quickly. The roof projection has a drip edge, where water is safely guided away from the enclosure and the upper area of the door seal is protected. In addition, the door edge fold has a 10° tilt to ensure nothing adheres to the enclosure and no pockets of dirt can form. Virtually all surfaces are designed for liquids to quickly and easily run off. There are no external fasteners that can trap dirt or mounting holes that need to be plugged if unused.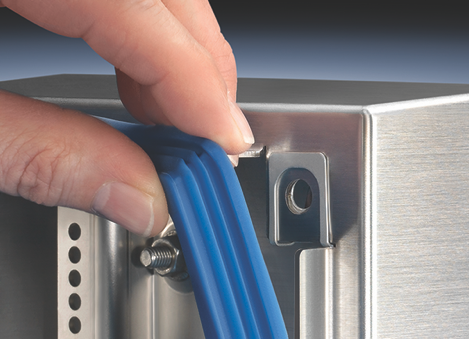 One special aspect of the HD enclosure is the blue silicone seal, which makes it easy to identify lingering food particles. The easily replaceable one-piece gasket constructed of FDA approved material is securely fitted between the enclosure body and door. The gasket creates an unbroken seal keeping contaminates and water out of the enclosure.
One-stop solution for optimum processes
With its Hygienic Design range, Rittal offers enclosures and accessories, as well as climate control components specifically developed for applications in areas where hygiene is important. HD products are resistant to environmental influences such as dirt or cleaning agents, and they can be cleaned easily and quickly, helping boost manufacturing productivity. In addition, Rittal also offers an extensive range of accessories for internal installation in HD enclosures. The new HD brochure from Rittal has the details for the hygienic design of housings and enclosures and outlines the Hygienic Design range the company has to offer.
To learn more about how Rittal products and help with your food and beverage sanitation needs, contact a Standard Electric account manager at 1-800-318-4618 or visit www.standardelectricsupply.com/contact-us.
Learn more about Rittal's Food and Beverage enclosures HERE.