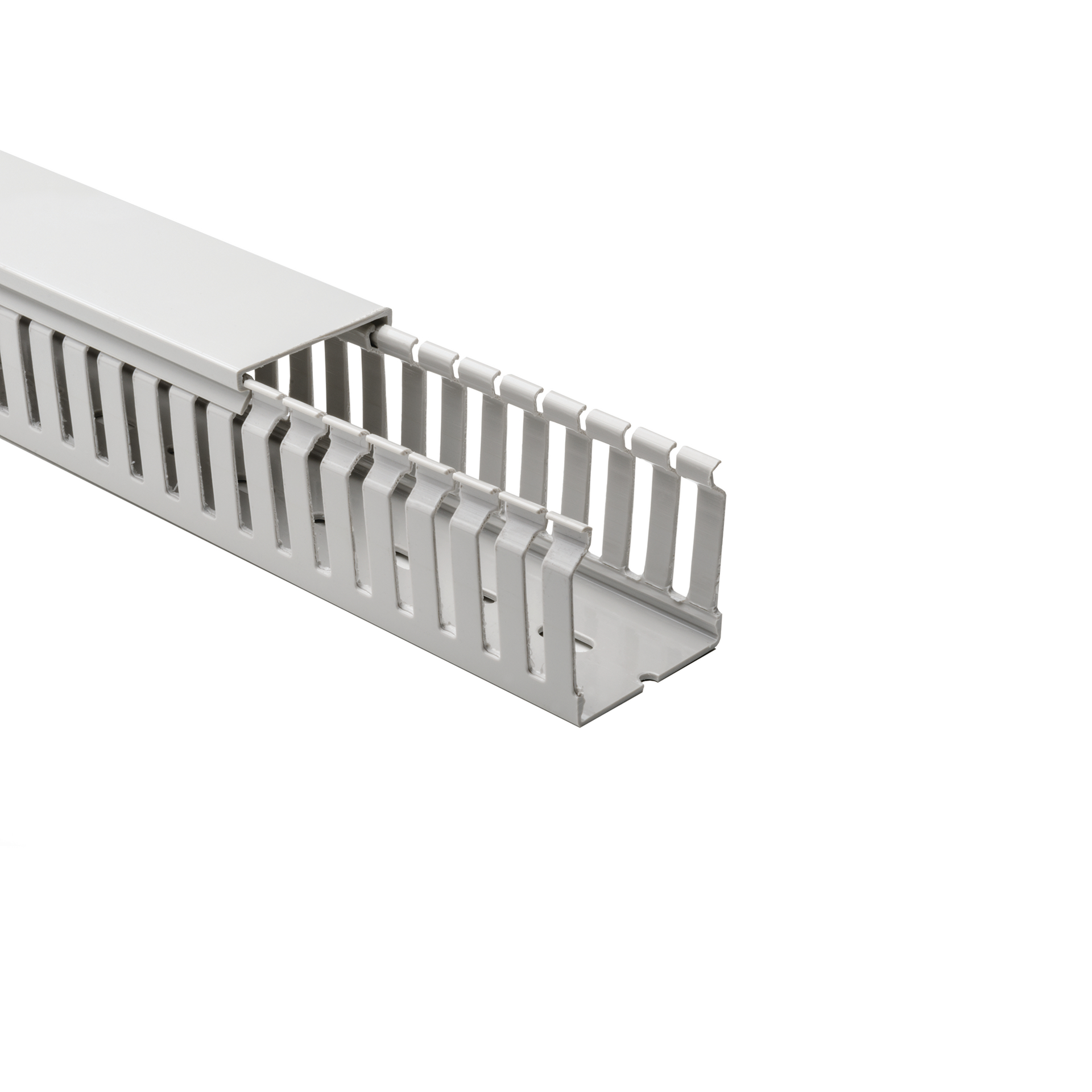 Standard Electric and HellermannTyton have a secret to share! While many panel builders are looking for wiring duct and can't find it, we've got a huge stash. The wiring duct is made in America, so there are no supply chain issues – it's in stock and ready to ship.
Designed for low- to high-volume shops, HellermannTyton duct covers all the essentials and comes in multiple wall styles that include standard, high-density slotted, and solid. They are sold separately but are interchangeable among the three styles of the duct. Each finger is provided with a double restriction to hold wires in the bottom portion of the duct, allowing for easier installation. Fingers are strong, yet easy to break away from for branch-outs. Coined edges protect your hands during installation.
HellermannTyton's engineers think like the customer. How? This duct's dimensions refer to OD, so when designing a panel, you know exactly what the duct footprint is. A 2-in. width is two inches.
The product range is available in four colors: gray, white, black, and intrinsic blue. It's also available in standard PVC or halogen-free material for applications where low-smoke regulations apply. We love that this duct is also certified recyclable, so you can keep the scraps out of landfills as part of your sustainability program.

Features & Benefits:
Quality construction, with coined edges and easy-break fingers
Standard and high-density slotted, plus solid styles
Stay-put covers won't slide off in transit or under vibration
Mounting holes every 2 inches to accommodate compact designs
In stock now
Check out this quick informative video featuring our manufacturer's rep, Lindsey Romans:
To learn more about the HellermannTytons Wiring Duct, click the link below and your Account Manager will be in touch.
---
Standard Electric Supply Co. is a family-owned distributor, built on delivering outstanding service. For over 100 years, Standard Electric has been the best at what they do; delivering top-quality products, outstanding service, and providing value-added services to customers across the Midwest. Visit standardelectricsupply.com to see how Standard Electric can become the solution to your needs.
Sharing this post