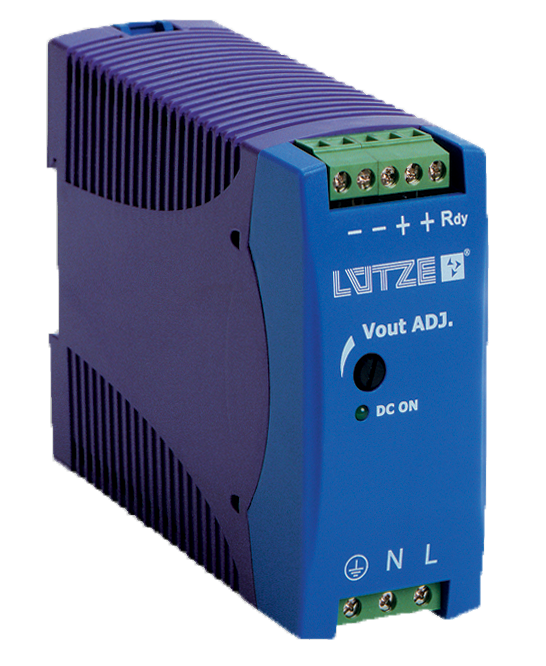 Standard Electric and LUTZE provide reliable industrial power supplies through innovative design and engineering with 1-, 2- and 3-phase units.
Features & Benefits:
LUTZE DELTA series power supplies are suitable for industrial applications adhering to standard specifications and providing an economical and reliable solution.
LUTZE COMPACT series power supplies are suitable for industrial applications where high in-rush power is required, as well as when compact housing or extended reliability is desired.
Both DELTA and COMPACT series offer DIN rail mountable power supplies that are applicable for a wide variety of different industrial applications. LUTZE's UPS units offer several product solutions when backup power is critical for the application.
LUTZE power supplies are developed with technical innovations in mind. As an example, the COMPACT power supplies are approximately 50% smaller in size than the industry standard. It offers more than 94% efficiency and are suitable for temperature ranges between -25°C to +75°C.

Click here to download the LUTZE Industrial Power Supplies flyer.
To learn more about LUTZE's Industrial Power Supplies, click the link below and your Account Manager will be in touch.
---
Standard Electric Supply Co. is a family-owned distributor, built on delivering outstanding service. For over 100 years, Standard Electric has been the best at what they do; delivering top-quality products, outstanding service, and providing value-added services to customers across the Midwest. Visit standardelectricsupply.com to see how Standard Electric can become the solution to your needs.
Sharing this post