Standard Electric and LUTZE are able to help you connect your Industrial Ethernet devices! In addition to a comprehensive line of Industrial Ethernet and network cables, LUTZE offers field wireable connectors to help you link RJ45 ports and M12 connections. 
LUTZE's RJ45 connectors are designed with a rugged zinc die-cast metal housing with quick-connect IDC (Insulation Displacement Connector) technology that is user friendly and requires no special tools. They are offered in straight and 90-degree angled designs to accommodate tight control enclosures and help maintain the bend radius of bigger Industrial Ethernet cables. Click the images below for more information!
 
Beneficial features include:
Cat 6A / 6 / 5e compatible
T568A, T568B or Profinet coded
Accommodates network cables with ODs 5.5-10mm
IP65 with cap closed, IP20 in inserted operation
UL Listed 
To download the RJ45 Connector data sheet, please click the link below.
RJ45 IDC Industrial Connector - Straight and Angled
LUTZE's M12 connectors with innovative push-in technology deliver a time saving and reliable termination for signal, data, or power cabling. These versatile M12 connectors provide a secure connection for solid, stranded, and ferruled wires per application requirements. Color coded and numbered terminals simplify termination to ensure proper connections. Click here to download the datasheet.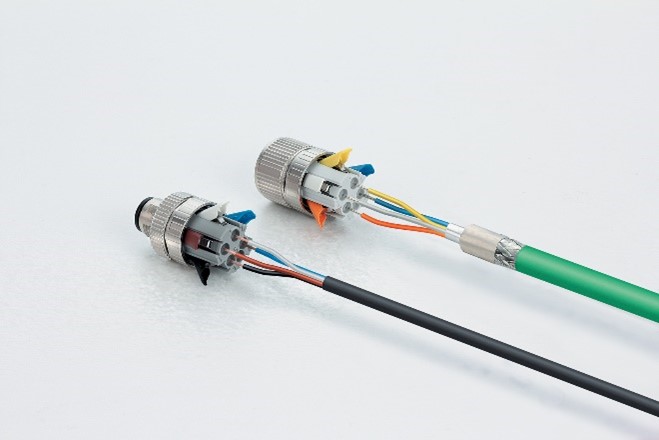 LUTZE's M12 push-in connectors are available in:  
A, B, or D Coding
straight or angled
male or female
shielded or unshielded
plastic or a rugged zinc die cast housing
IP67 inserted and tightened
UL Listed
 
To download the M12 Connector data sheets, please click the links below.
With a wide variety of cables, connectors, and connectivity solutions, LUTZE is a complete solutions provider for your industrial network applications.
To learn more about LUTZE's RJ45 and M12 Connectors click the link below and your Account Manager will be in touch.
---
Standard Electric Supply Co. is a family-owned distributor, built on delivering outstanding service. For over 100 years, Standard Electric has been the best at what they do; delivering top-quality products, outstanding service, and providing value-added services to customers across the Midwest. Visit standardelectricsupply.com to see how Standard Electric can become the solution to your needs.
Sharing this post