Standard Electric and Brady are proud to promote the M710 Portable Printer. It is Brady's fastest, most advanced printer yet. With it, you will be able to print 3" per second, auto-cut labels, and work all day on just one charge. Use one device for 100's of applications, printing on the toughest materials around. Keep reading to see more benefits and features the M710 can offer.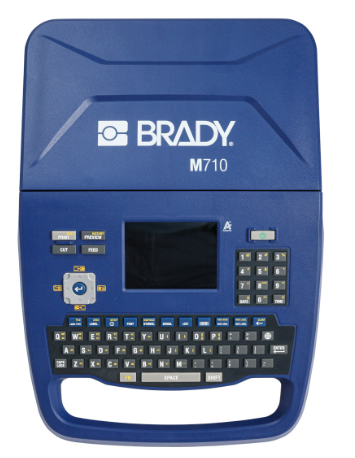 Get lightning-fast print speeds: 3" per second, plus cut labels automatically
Work longer – print 4,500 labels on a full battery charge
Enjoy more durability with a printer that withstands 4' drops, blowing sand and dust
Print what you need, how you need it – text, barcodes, shapes and images using a keypad or software
Get shop-to-field flexibility with label saving, sharing and data imports
The M710 might look familiar, and that is because it is the BMP®71 Label Printer now  updated to the M710. Same great printer, only better! Take a look at what's improved:
Six additional material options available: cold application, low-halide, BradyGlo™, metalized, QuickFlag™ and magnetic
Print up to 4,500 labels per battery charge, thanks to a lighter and faster Li-ION battery pack (same as on AC) – upgraded from NiMH
Enhanced touchscreen technology, automatic label cutter and a more ergonomic handle to make transport easier
Print 3 inches per second. Cut labels automatically. Do more with the Brady M710 Printer:
Work anywhere
Take the M710 to any jobsite. Its ergonomic handle makes it easy to transport, plus it withstands 4' drops, blowing sand and dust and is tested to meet MIL-STD-810G for vibration.
More data entry options
Get more ways to save and store labels on board - import data files from a USB thumb drive, import and save files, lists and graphics, or design and print labels using a keypad, mobile app or desktop software.
Better printing
Print better and faster with 3" per second print speed to print text, barcodes, shapes and images. Get enhanced Gen3 Li-ION battery for non-stop printing.
Get the complete print-from-everywhere solution and bridge-the-gap between the office and the field. To learn more about the new Brady labelers, click the link below and your Account Manager will be in touch.
---
Standard Electric Supply Co. is a family-owned distributor, built on delivering outstanding service. For over 100 years, Standard Electric has been the best at what they do; delivering top-quality products, outstanding service, and providing value-added services to customers across the Midwest. Visit standardelectricsupply.com to see how Standard Electric can become the solution to your needs.
Sharing this post