Standard Electric and HellermannTyton are proud to present their Magnetic Fasteners. Allowing for fast and convenient routing on steel surfaces, these combination wire mounts and fasteners go where traditional routing products can't. Made with Neodymium Magnets, the strongest magnets in the world, HellermannTyton's magnetic fasteners will hold cable runs without the need for holes, adhesive, or mounting hardware.
Magnetic Fasteners are an ideal mounting option in many industrial applications:
Use along steel surfaces where drilling holes are not desirable

Ideal as "a second set of hands" to assist in cable routing

Greater long-term mounting than adhesive
Magnetic Fasteners from HellermannTyton are the perfect example of when strength meets utility when securing wires in industrial applications. They are also reusable, so whether your project is permanent or temporary, this could be the perfect solution. Discover the many benefits of pairing Neodymium Magnets with industrial-grade mounts and fasteners.
What's a Neodymium Magnet?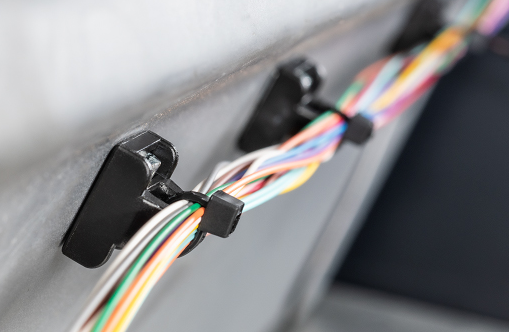 The strongest of all rare-earth magnets, Neodymium Magnets are made from Neodymium, iron, and boron, often abbreviated NdFeB or NIB.

Neodymium Magnets are so strong that they are often referred to as "permanent" because, in normal applications it takes a minimum of a decade to lose even 1% of strength. If it does the job well today, it will remain reliable for the rest of your lifetime – and probably several more.
What mounting advantages do they offer?
Convenience is the first distinguishable advantage, as well as not drilling mounting holes through thick steel surfaces.

No hauling out the welding rig and spending extra time brazing on mounts.

No extra mounting hardware, which can be tedious to hold together – and inevitably, bolts and nuts drop onto the floor.

These Neodymium Magnets adhere incredibly well to most commercial and industrial metal surfaces, even if covered with oil, grease, paint, or debris. To protect the magnets from corrosion, they are triple plated with nickel, copper, and nickel again. Under ordinary use, they should look as good as they perform for life. So, whether your application is permanent or temporary, you've got the perfect, reusable solution.
Know your magnet's limits:
Rare-earth magnets deliver in so many ways. But like most solutions to a problem, you need to know the full story to make informed implementation decisions.

If heated above their maximum operating temperature of 176 degrees F (80 degrees C), Neodymium Magnets will lose a fraction of their magnetic strength. If heated above 590 degrees F (310 degrees C), they will lose all their magnetic properties.
Magnets are the only mounting solution ready to mount as-is. That means zero effort placing them into position. In fact, they are even easier to install in hard-to-reach areas or blind spots. Regardless of any preconceived expectations, these Magnetic Fasteners from HellermannTyton are impressive.
Contact your account manager to learn more or click the button below!
---
Standard Electric Supply Co. is a family-owned distributor, built on delivering outstanding service. For over 100 years, Standard Electric has been the best at what they do; delivering top-quality products, outstanding service, and providing value-added services to customers across the Midwest. Visit standardelectricsupply.com to see how Standard Electric can become the solution to your needs.
Sharing this post