Contributing Author: Kimberly Cavaliero-Keller, MELTRIC Corporation Marketing Communications Lead
Situation
If you're a snack food aficionado, there's a good chance the delicious cheesy, salty, spicy, or sweet seasoning left on your fingers after digging into a snack bag, are resultant of a research and development session at Spray Dynamics. The company got their start designing and building liquid applicators to spray release agents into baking molds and pans. Today, they design and build new equipment lines for full-system coating, liquid and dry applications, tumbling machines, mixers, dryers/roasters, and more.
In 2011, Spray Dynamics joined Heat and Control, an international powerhouse known for creating innovative, technologically-advanced food (and other industry) processes, systems designs, and manufacturing equipment. Today, the company is known as the Spray Dynamics Group of Heat and Control, Inc.
The Spray Dynamics Group of Heat and Control, Inc. recently opened a 108,000-square foot state-of-the-art engineering and manufacturing facility in Union, Missouri. Here, the company uses the latest technology to design, fabricate, and test turnkey systems before shipping them to customers.
Dedication to Customers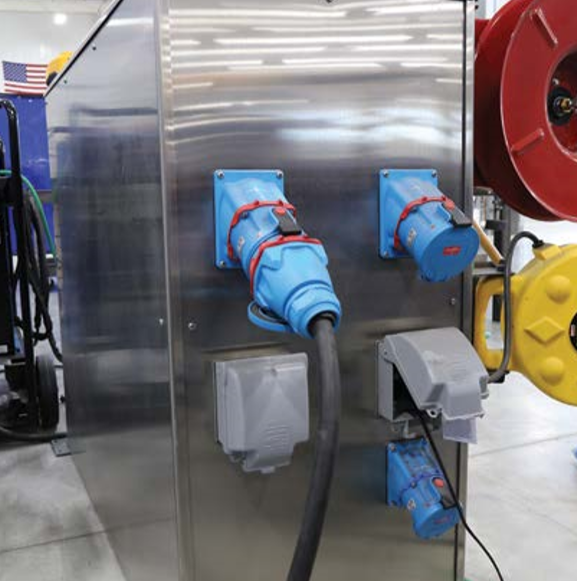 The new facility was built with a customer-centric design, adding a world-class demonstration/technical center and visitor hosting quarters. The Spray Dynamics Group of Heat and Control, Inc. prides themselves on their extensive industry experience, flexible custom solutions, innovative designs, high-quality equipment manufacturing, and most importantly, their excellent customer relationships.
General Manager, Lucas Bell explains, "Our equipment's performance may get us a new customer, but it's our communication and support after the sale that has given us our many long-term customers."
This strong commitment to customers is one of the primary reasons the Spray Dynamics Group of Heat and Control, Inc. chose MELTRIC to supply plugs and receptacles for their original equipment manufacturing (OEM) products.
Choosing Meltric
Service/Controls & Integration Manager Brian Haynes says, "We sell high-quality products and believe we should supply our customers with high-quality and safe means to connect and disconnect our equipment." He continues, "Adding MELTRIC plugs and receptacles to our OEM products provides the end user with safer, faster equipment disconnects, while dramatically reducing the UL disconnect footprint on our equipment."
In addition to partnering on Heat and Control, Inc. manufacturing equipment, MELTRIC plugs and receptacles are installed in every area of the new plant. Service/Controls & Integration Manager, Brian Haynes says, "We have used pin and sleeves and twist-locks in the past. We value MELTRIC devices as cost-reducers; they eliminate the need to constantly replace damaged and faulty equipment."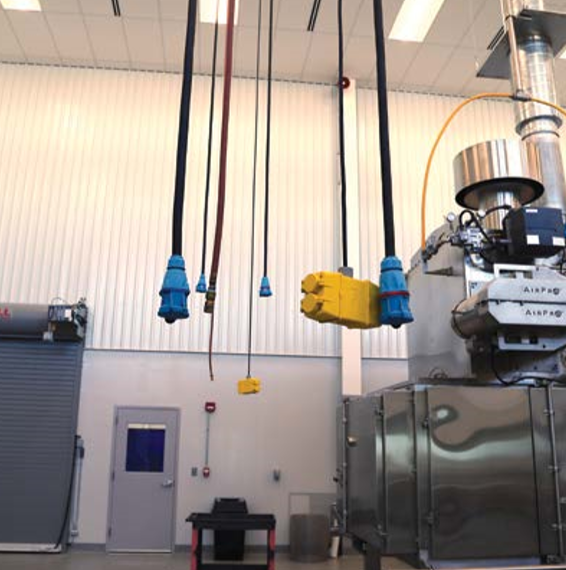 MELTRIC plugs and receptacles power everything from welders and motors, to cord drops, test lab equipment, and other machinery across the facility. The Spray Dynamics Group of Heat and Control, Inc. chose MELTRIC's DSN switch-rated plugs and receptacles with DECONTACTOR™ technology for use both in the plant and on their equipment.
MELTRIC switch-rated devices provide complete de-energization with the push of a button; there's no need to add expensive disconnects. A built-in arcing chamber and dead-front safety shutter ensure workers and customers will not be exposed to arc flash hazards or live electrical parts. MELTRIC's corrosion- resistant spring-loaded, silver-nickel, butt-style contacts provide superior electrical connectivity.
Summary
Haynes explained, "We value the ability of MELTRIC devices to give us plug and play functionality without any worry of arc flash or shock hazards to our employees within our facility. The quality, reliability, and product capability of MELTRIC plugs and receptacles is second to none in the connector industry."
If you have additional questions, contact your Standard Electric Supply Co. account manager or call 1-800-776-8222. See our full line of Meltric products.