Mersen's Compact EP Power Distribution Blocks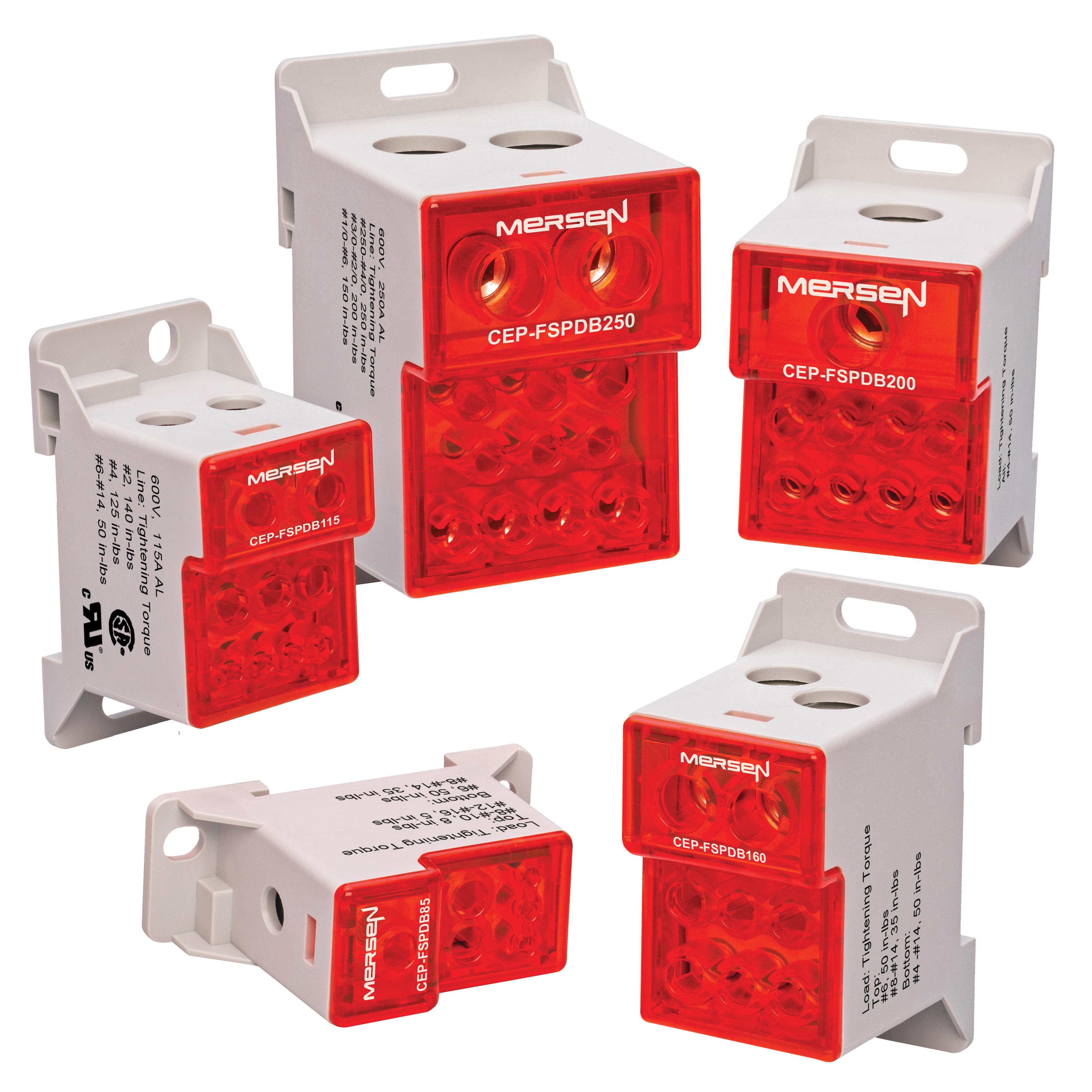 Mersen's finger safe IP20-rated Power Distribution Blocks are part of the new Compact EP® line of products. The compact footprint allows space savings in panels, contributing to reduced panel size when compared to traditional power distribution blocks.
The Compact PDB is ideal for low voltage applications. Rated for UL600V, ampere range of 85-250A, it can accommodate wire ranges AWG 18-3/0, catering to a wide range of low voltage applications. The PDBs can be DIN rail mounted, are dual wire rated, and are capable of DLO wire acceptance allowing ease of installation. Translucent covers allow visual inspection of wire termination points and wiring configurations.
Features/Benefits:
Finger-safe protection: Fully insulated block ensures touch-safe isolation of live parts. Recessed termination screws and wire openings provide IP20 grade protection and qualify as "fingersafe" per IEC 529. Translucent cover allows for visual inspection of wire termination.

Compact modularity: Smaller footprint allows panel builders to reduce space and build smaller or higher density panels.

Snap on DIN-rail mounting: Integral DIN rail adaptors allow for quick and easy installations on 35mm DIN rail, yielding lower installed costs.

Captive termination screws: Unique channel design ensures captive metric wire termination screws. Screws can never be lost.

Multiple wire ratings: Blocks are multi wire rated - see multi wire rating table and can accomodate 18AWG wire for low voltage applications such as LED lighting. Can also accept DLO wires.
---
Standard Electric Supply Co. is a family-owned distributor, built on delivering above standard service. For over 100 years, Standard Electric has been the best at what they do; delivering top-quality products, outstanding service, and providing value-added services to customers across the Midwest. Visit standardelectricsupply.com to see how Standard Electric can become the solution to your needs.