Standard Electric and Rittal are happy to promote Micro Data Centers. The continued increase of edge data centers to support an unparalleled demand for data presents new challenges. Rittal's data centers are scalable and flexible solutions for these requirements. When it comes to installation, having the capacity for rapid deployment allows businesses to get their IT equipment operational quicker. Keep reading to see just how great these Micro Data Centers are!
Never heard of a Micro Data Center before? No problem. A micro data center (MDC) is a small-scale modular data center that includes all the computer, storage, networking, power, cooling, and other infrastructure required for a given workload. In recent years, applications including IoT (Internet of Things), content delivery, and 5G have created a large demand for low-latency access to data processing and data storage. Ranging in size from a single 19-inch rack to a 40-foot shipping container, micro data centers are small enough to be deployed in locations where a traditional data center would be impractical. This allows organizations to solve the low-latency data processing and storage challenge in a cost-effective way.
Maximum efficiency in a minimal space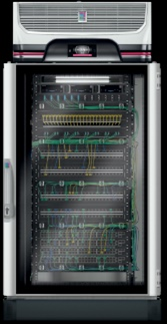 Edge Data centers are often located in unconditioned environments and exposed to harsh conditions, providing crucial protection of the IT equipment from such contaminants l. Rittal offers a full spectrum of cooling solutions designed to operate in these h environments maintaining the proper conditioned space for your IT equipment.
Reliable, redundant, and fail-safe
Edge data centers can handle a wide variety of tasks, not just data capture and condition monitoring. With critical processes, such as controlling traffic flows or monitoring production processes, it is particularly vital for an edge data center to reflect the availability of the application. Scalable redundancy is the key here.
Scalable in multiple dimensions
Edge data centers are always defined by the application. CPU-intensive applications may require multiple enclosures with a higher cooling output. The modular system from Rittal safeguards your growth plan, as it is scalable in terms of size, redundancy and maximum load.
The extent to which IoT transforms our future will depend on faster, scalable and more secure networks:
Consumers and companies alike need reliable connections to large numbers of systems that coordinate our lives and work. Edge computing plays a pivotal role in this new, smarter world. Edge computing quite literally moves computer applications, data and services away from centralized nodes to the very edge of the Internet, facilitating rapid on-site analyses and data processing in real time. This doesn't just benefit sectors such as healthcare and transport, but any area of life which interacts with IoT devices.
To learn more about the Rittal Micro Data Centers, click the link below and your Account Manager will be in touch.
---
Standard Electric Supply Co. is a family-owned distributor, built on delivering outstanding service. For over 100 years, Standard Electric has been the best at what they do; delivering top-quality products, outstanding service, and providing value-added services to customers across the Midwest. Visit standardelectricsupply.com to see how Standard Electric can become the solution to your needs.
Sharing this post