Contributing author: John Meyers, Outside Sales with Bunnell and Associates
MELTRIC's Switch-Rated plugs and receptacles combine the safety and functionality of a switch with the convenience of a plug and receptacle. They help water and wastewater treatment plants ensure worker safety while also reducing equipment and labor costs. They are UL and CSA rated for motor circuit and branch circuit disconnect switching and meet code requirements for 'line of sight' disconnects. Switch-rated plugs & receptacles eliminate the need for expensive auxiliary disconnects and enable plug and play equipment changeouts.
Switch-rated plugs and receptacles allow mixers to be connected and disconnected safely with plug-and-play simplicity. Mechanics can easily replace or service the mixers without the need for cumbersome PPE (personal protective equipment) because the switch-rated plugs and receptacles meet NFPA 70E's 'Normal Operation' definition.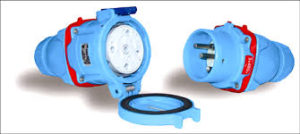 Disconnecting a motor becomes a simple operation that is initiated by pressing the pawl on the receptacle, which causes it to break the circuit and eject the plug to its rest position. Then, a simple quarter-turn of the plug allows it to be totally withdrawn from the receptacle in complete safety, since the circuit is already dead. When the plug and receptacle are separated, a safety shutter prevents access to live parts and the plug can be easily locked out.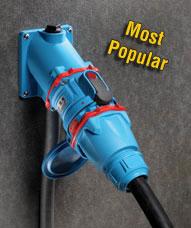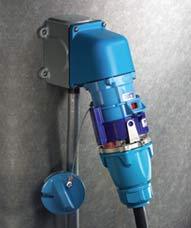 Durability is ensured by UV resistant casings and an 'automatic water tightness' feature that provides environmental protection up to IP69k. The plugs and receptacles utilize spring-loaded, silver-nickel butt-style contacts for superior electrical performance over thousands of operations and are resistant to wear, corrosion, oxidation and other factors that contribute to premature failure of pin and sleeve-type devices in water/wastewater facilities.
To understand how solutions from MELTRIC can help you, take a look at one their case studies from a Wisconsin wastewater treatment plant by clicking  HERE.
MELTRIC Water and Wastewater Solutions Brochure
To learn more about MELTRIC's Switch-Rated plugs and receptacles, reach out to your Standard Electric Supply Account Manager, visit www.standardelectricsupply.com or call 1-800-776-8222.