Contributing author: John Spence, Regional Sales Manager at Macromatic
Bearings are one of the most important components of electric motors. Normally, they are designed to operate for many years. Yet, more than half of motor failures are caused by bearing failure. The most common causes of premature bearing failure are lubrication loss and contamination ingress.
That is why all motors have bearing seals. They have two main functions: to prevent lubricating oil from leaking out; and to prevent dust, water and other contaminants from entering the bearing. Bearings should be adequately lubricated to prevent direct metallic contact between the rolling elements, raceways and cages, to prevent wear and to protect the bearing surfaces against corrosion.
Checking the condition of bearing seals and performing routine maintenance on most motors is easy when the motor is readily accessible, but what about submersible pumps? By the nature of their name, submersible pumps are designed for submerged installation, normally in a wet well as part of a lift station (where wastewater is pumped to a higher elevation so that gravity can be used to bring it to the treatment plant).
Therefore, most submersible pump manufacturers recommend the use of a seal leakage relay to monitor for potential leaking seals.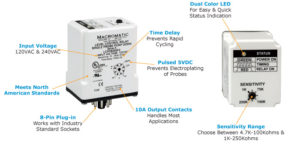 Macromatic's SFP Series Seal Leakage Relays are designed to monitor the shaft seals of submersible pumps for leakage. LED status indication and low-profile sensitivity know are on top for easy setup and troubleshooting. These products utilize a plug-in enclosure for panel or DIN-rail mounting with a socket.
Macromatic's Advantages:
Unit is short in length which may allow for a smaller and less expensive enclosure
Two-color LEDs indicate both normal and alarm status
UL Listed with the supplied back-mounted socket
Competitively-priced with a five-year warranty
To learn more about seal leakage and over temperature relays from Macromatic, click HERE. Contact your Standard Electric Supply Co. account manager with questions at 1-800-318-4618 or visit www.standardelectricsupply.com.