FIEPOS, the newest machine mounted power supply by PULS. is ready to exceed your power related needs. No matter the industry, you and your customers rely on products that are not only durable, but easy to use, upgrade and ultimately depend on. PULS meets all those expectations with FIEPOS.
A low-profile decentralized power 3-phase AC unit, FIEPOS comes housed in a sturdy aluminum case. It is both dust an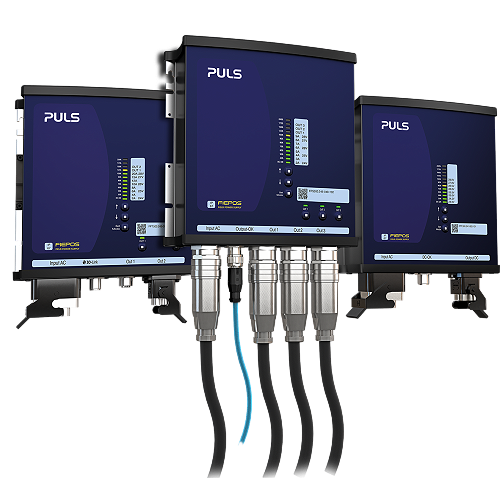 d water-resistant featuring housing that is IP54, IP65, and IP67 certified. The FIEPOS series of power supplies have 4 outputs supporting multiple connectors for flexible field operation.
Location is everything, FIEPOS are incredibly low profile with a depth of only 57mm and a height and width just over half a foot. It is small and mighty. and can be mounted both via Din-Rail and surface mount. Its easy-to-read LED interface makes diagnosing issues a breeze.
The FIEPOS series reliable power output can be further enhanced by BonusPower®, which allows for an additional 600 or 1000 watts of power depending on the model used.
Your job's productivity is of the utmost importance. FIEPOS, with its incredible adaptability, ease of access and functionality gives your company the power to get the job done.
Specifications:
Launching with a total of six 3-phase input models
4 programmable outputs
Low Profile Machine Mounting
Units are operational from -13F to 153F
DC-OK and I/OLink output compatible
600W or 1000W Short Term BonusPower®
UL 61010-2-201 Listed (UL508 Equivalent).
To learn more about PULS's FIEPOS series, click the link below and your Account Manager will be in touch.
---
Standard Electric Supply Co. exists to provide you with the latest innovative products to enhance your facility's operation.
Standard Electric Supply Co. is a family-owned distributor, built on delivering outstanding service. For over 100 years, Standard Electric has been the best at what they do; delivering top-quality products, outstanding service, and providing value-added services to customers across the Midwest. Visit standardelectricsupply.com to see how Standard Electric can become the solution to your needs.
Sharing this post