Standard Electric and PULS present a new type of machine-mounted power supply, the FIEPOS. This power supply was developed precisely as a decentralized field power supply that is flexible enough to meet diverse industrial needs.  Since the FIEPOS is a sealed power supply, dust and moisture are not a problem which makes this the perfect field power supply for the Paper Converting industry's numerous paper processing environments.  These diverse environments include:
Dry and dusty, where big trees are being made into fine particulate sawdust
Mushy and damp, where the paper product is being converted and pressed into paper
Moving product along conveyors, gantries, cranes, and containers to the next production stage 
Additionally, the FIEPOS power supply does not need to be in a central location within an enclosure. It can be put out into the wild of the process or put as close as it needs to be and mounted on a wall. There is also a bracket available so that it can be hung from below a conveyor.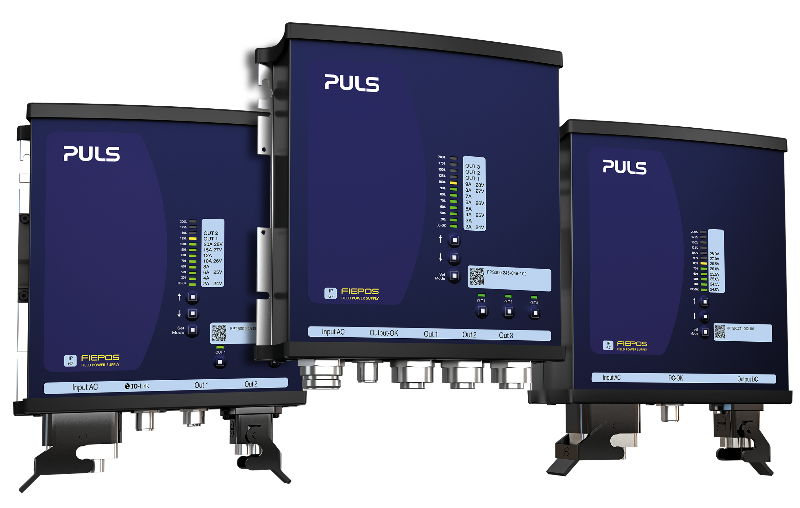 Features & Benefits:
Available in IP54, IP65, or IP67 that has a bulkhead mount capability
Low-profile decentralized power 3-phase AC unit
Housed in a sturdy aluminum case
4 outputs to support multiple connectors for flexible field operation(s)
Lock-out faceplate so settings cannot be changed by unauthorized personnel
Low profile with a depth of 57mm & height & width just over one-half
600 or 1000 watts of power available through BonusPower® (depending upon model)
The PULS FIEPOS enhances processes for the Paper and Pulp industry. Extra power is standard (300W vs standard 240W, 500W vs standard 480W) in this power supply which provides longer cabling that enables the customer to conveniently locate the power supply where it is needed most.  Additional power is available for motor start-up (200% output for 5 seconds or 120% output for the life of the power supply), prioritized outputs, and short circuit protection.  All these options are wrapped up in the most efficient IP67 power supply available today. Click here to download the PULS FIEPOS brochure.
Since your job's productivity is of the utmost importance, click the link below and your Account Manager will be in touch.
---
Standard Electric Supply Co. is a family-owned distributor, built on delivering outstanding service. For over 100 years, Standard Electric has been the best at what they do; delivering top-quality products, outstanding service, and providing value-added services to customers across the Midwest. Visit standardelectricsupply.com to see how Standard Electric can become the solution to your needs.
Sharing this post