The Ratchet P-Clamp
HellermannTyton brings simplicity and durability to its new versatile clamp family.
Made from a heat and UV stabilized PA66 plastic, the Ratchet P-Clamp family provides a protective and long-lasting exterior for any bundle. It offers four clamp sizes, angles available in 180, 90, 30, and 15-degree specifications, as well as a range of inline fir tree and adhesive options to tackle any industrial environment.
The RPS offers one-piece assembly, eliminating the hassle found in traditional brackets and clamps. This consolidated process saves time, inventory space, and improves bundling security. In the event something goes wrong, the RPS is equipped with a simple release mechanism by way of a flat-head screwdriver. This allows the clamp to be reused and serviced without removal or hassle.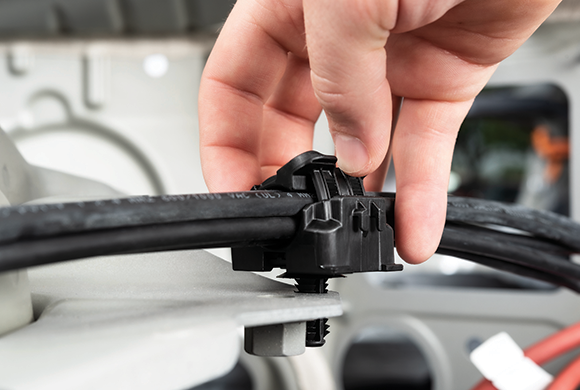 Markets to benefit from use of the RPS:
Heavy equipment
Truck
Automotive
Machine builders
Rail
Renewables
Utility
Built-in cradle for additional cable tie building
Plastic won't chafe or crush bundles
No extra hardware needed outside the clamp and mount cable combo
Easy-open mechanism
PA66HIRHSUV material tolerates extreme temperatures, chemicals, salt spray, and UV light exposure
---
Standard Electric Supply Co. is a family-owned distributor, built on delivering above standard service. For over 100 years, Standard Electric has been the best at what they do; delivering top-quality products, outstanding service, and providing value-added services to customers across the Midwest. Visit standardelectricsupply.com to see how Standard Electric can become the solution to your needs.