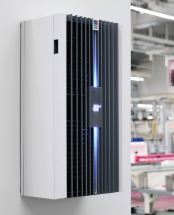 Standard Electric and Rittal are announcing the expansion of their smart cooling unit solutions for enclosures with the new Blue e+ S. This latest generation of Blue e+ S cooling units has been designed for efficiency to ensure a smaller carbon footprint, provide energy savings, minimize CO2 emissions, and lower costs. Solutions that reduce the carbon footprint during production are in high demand. At the same time, these solutions need to be intelligent and communication-enabled so that they can be easily integrated into digitalized manufacturing environments. The new Blue e+ S enclosure climate control units for lower cooling outputs of .3 kW, .5 kW, and 1 kW are based on the same design and energy-saving principles as the Blue e+ series, but also offer added smart capabilities.
Energy savings and cost reduction are enabled due to the technology used, combining a heat pipe with inverter-controlled components. The heat pipe works without a compressor, expansion valve, or other regulating elements eliminating the need for electrical energy except when operating the fan. Depending on the thermal energy generated in the enclosure and the current ambient temperature, cooling can be performed with the heat pipe alone. The additional compressor cooling only operates if a large amount of heat has to be dissipated from the enclosure or if the ambient temperature is very high. When it does operate, the compressor cooling is far more energy-efficient than conventional units due to the compressor and fans that possess an inverter-controlled drive which automatically adjusts their speeds depending on the cooling requirements. As a result, the temperature within the enclosure remains constant, and the energy efficiency is significantly higher than with other more conventional cooling units.
Features & Benefits:
Wide output range covering all cooling requirements
Sheet steel design for all typical industrial sector applications
Stainless steel and chemical options are available for challenging environmental conditions
Robust outdoor features with anti-vandalism features
International approvals and multi-voltage capability for worldwide use
The Rittal Blue e+ S Smart Cooling Units will meet your energy reduction goals and minimize energy-related costs.
Click here to download the Rittal Blue e+ S Smart Cooling brochure for more information.
To learn more about the Rittal Blue e+ S Cooling Units, click the link below and your Account Manager will be in touch
---
Standard Electric Supply Co. is a family-owned distributor, built on delivering outstanding service. For over 100 years, Standard Electric has been the best at what they do; delivering top-quality products, outstanding service, and providing value-added services to customers across the Midwest. Visit standardelectricsupply.com to see how Standard Electric can become the solution to your needs.
Sharing this post