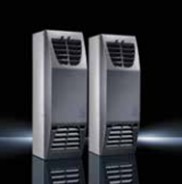 Standard Electric and Rittal are offering the new Blue e+ Cooling Units that provide the ultimate in energy efficiency through innovative technology.  Due to the soaring energy costs that are being experienced by manufacturing complexes around the world, cost-saving solutions are of great concern. Since the Pulp & Paper Industry uses large amounts of energy, water, and wood pulp in its extremely complex stages of production, the Rittal Blue e+ Cooling Units, compatible with Rittal Enclosures, are "the solution" to reducing energy costs since they provide the highest level of reliability/performance.  The accurate indicator of business, Purchasing Managers' Index ("PMIs"), validates the advantages of the Rittal Blue e+ Cooling Units in reducing electrical consumption.
Rittal's Blue e+ cooling unit blend cost-effectiveness and energy conservation. They offer 75% energy savings over their competitors using a wide array of cooling features. Blue e+ units diligently monitor heating conditions, regulating its speed depending on the workload.
The Blue e+ cooling units are incredibly compact and can be mounted in or on units. As you know, heat can shorten the life of your electronics; the units monitor temperatures across the spectrum. By monitoring and maintaining your production line, these cooling units can adjust their output to when your production needs it the most. The Blue e+ series of cooling units sense danger to your production before it becomes a costly problem.
Rittal's IoT interface allows for constant monitoring and seamless communication of the Blue e+ cooling unit.  With IoT's remote access you can check your unit's sensors from anywhere in the plant.  It also allows you to seamlessly monitor communication between the unit and cloud-based systems all while being compatible with Industry 4.0 applications. IoT makes monitoring your setup easier and saves you on costly repairs.
Features & Benefits:
One standard model

Easy and rapid assembly

Maintenance friendly

CMC Sensors detect temperature, smoke, humidity among other hazardous environmental dangers

Remote network monitoring

Time between system failures decreased
For more information, click here to download the Climate Solutions Brochure.
To learn more about the Rittal Blue e+ cooling units, click the link below and your Account Manager will be in touch.
---
Standard Electric Supply Co. is a family-owned distributor, built on delivering outstanding service. For over 100 years, Standard Electric has been the best at what they do; delivering top-quality products, outstanding service, and providing value-added services to customers across the Midwest. Visit standardelectricsupply.com to see how Standard Electric can become the solution to your needs.
Sharing this post