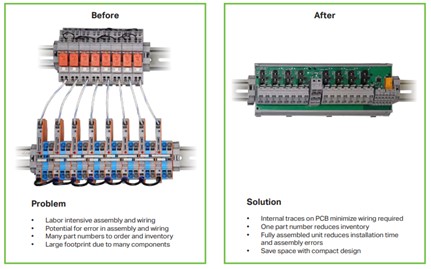 Standard Electric and Pepperl + Fuchs are excited to introduce applications in the paper industry that range from raw material production to finishing. P&F's ultrasonic and photoelectric distance measurement sensors detect paper rolls, monitor web stock diameters, and ensure consistent web tension. Robust encoders and positioning systems precisely detect cylinders and rollers to control web tension and avoid web breaks. Ultrasonic sensors reliably detect splices and thus reduce material waste.
The printing industry is affected by increasing demands for flexibility, quality, and speed.  Print jobs from small to large, require high flexibility and fast machine changeover. At the same time, quality expectations are increasingly particular. In press and post-press processes, machines need to operate precisely to minimize material waste and machine downtime. Precise miniature sensors ensure the smooth operation of your printing processes. Ultrasonic sensors detect double sheets and splices regardless of the material or color. Misfed sheets in collating, folding, and binding machines are also eliminated: Special vision sensors reliably verify sheets by image comparison or code reading.
P&F offers you the right sensor solution for your prepress, press, and post-press applications and delivers complete individual solutions. Using our Technical Solutions Team, our experts help you select the right sensor technology for your specific application.
To learn more about the Pepperl + Fuchs, click the link below and your Account Manager will be in touch.
---
Standard Electric Supply Co. is a family-owned distributor, built on delivering outstanding service. For over 100 years, Standard Electric has been the best at what they do; delivering top-quality products, outstanding service, and providing value-added services to customers across the Midwest. Visit standardelectricsupply.com to see how Standard Electric can become the solution to your needs.
Sharing this post