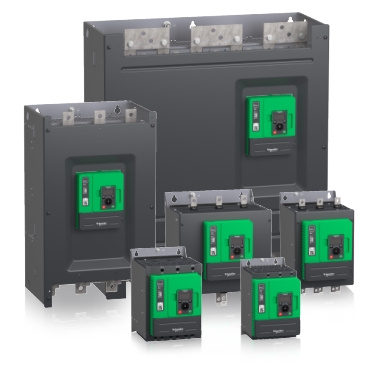 Standard Electric and Schneider Electric are offering the next evolution of soft starter, the Altivar ATS480. The ATS480 has been developed to help you achieve superior upgrade performance by enhancing embedded functionality and performance capabilities for both hardware and software. The Altivar ATS480 was designed to address processes, infrastructures, and industrial machines as it simplifies project execution and maximizes the availability of your applications even in the most demanding environments.
The ATS480 builds on the proven robustness and start/stop performance extending the lifetime of the ATS480 equipment and preserving your initial investment by reusing the current design. The additional power options and the cybersecurity-compliant firmware upgradability capabilities of the Altivar Soft Starter ATS480 can help you maximize process continuity and operation. It can also reduce your operational expenses, by avoiding the need to replace your soft starter or modify your existing installation as a retrofit.

Features & Benefits:
Enables secure and digital area
Reduces engineering time and cost
Helps secure your operations
Reduces downtime
Improves power quality and efficiency
Extends service life of ATS48 equipment
Replaces ATS48 while keeping the same footprint, circuit breaker, contactors, cables, and behavior of the process
Altivar Soft Starters range from 3 A (0.37 kW) to 1200 A (900 kW) and can be used widely for any commercial and industrial application. They provide a slow ramp-up of the motor to help decrease mechanical shock and electrical peak demand. They are also the best in class, feature-rich, easy-to-use, compact, and robust with functionalities including torque control, communication for automation, and monitoring systems.


Click here to download the Schneider Electric Altivar ATS480 Soft Starter brochure.
To learn more about the Schneider Electric Altivar ATS480 Soft Starter, click the link below and your Account Manager will be in touch.
---
Standard Electric Supply Co. is a family-owned distributor, built on delivering outstanding service. For over 100 years, Standard Electric has been the best at what they do; delivering top-quality products, outstanding service, and providing value-added services to customers across the Midwest. Visit standardelectricsupply.com to see how Standard Electric can become the solution to your needs.
Sharing this post