Schneider Electric is at the forefront of technological innovation and now, is offering the Modicon Switch-Mode Power Supplies. These are designed to provide the necessary DC voltage for automation system equipment control circuits for industrial use and rail mounting. The Modicon Power Supply is available in three types: Modicon ABLM Modular Power Supply, Modicon ABLS Optimized Power Supply and Modicon ABL8RP/WP Universal Power Supply.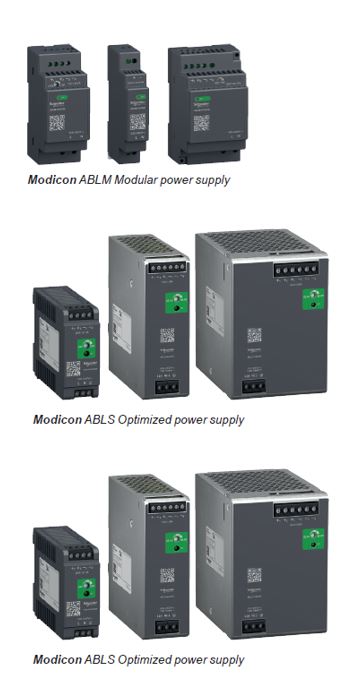 All three Modicon Power Supply products are fully electronic and with regulated output voltage that offers:
Diagnostics via LEDs on the front panel
Remote Diagnostics via relay contact with ABL8RP/WP Universal
Deliver stabilized DC output voltage that is precise to less than 3% whatever the load from an AC line supply; 100-240 Vac, 100-500 Vac, and 380-500 Vac
Modicon ABLM Modular:
Meets the needs of simple automation systems with power ratings from 10 to 60 W and an output voltage of 5, 12, or 24 VDC 
Can be mounted directly on a control panel or on a DINrail
In the event of an overload, the power supply protection interrupts power
Modicon ABLS Optimized:
Competitive functionality for applications requiring 12, 24 or 48 VDC and with power ratings from 50 W up to 480 W
Modicon ABL8RP/WP Universal:
Covers power ratings from 72 to 960 W in 24 VDC
Adapts to most power distribution networks used throughout the world
Offers automatic or manual reset functions along with a power reserve for absorbing the transient current peaks required by the application
For further details about the Schneider Electric's Modicon Power Supplies, to download the catalog.
To learn more about Schneider Electric's Modicon Power Supplies line of equipment, click the link below and your Account Manager will be in touch.
---
Standard Electric Supply Co. is a family-owned distributor, built on delivering outstanding service. For over 100 years, Standard Electric has been the best at what they do; delivering top-quality products, outstanding service, and providing value-added services to customers across the Midwest. Visit standardelectricsupply.com to see how Standard Electric can become the solution to your needs.
Sharing this post