Siemens Brings Back Definite Purpose Contactors
After a brief discontinuation, Siemens brings back the Class 42 and Class 45 Definite Purpose Contactor. As of November 12, 2019, the Siemens-invented Definite Purpose Contactors is available to order using original part numbers and matching the exact fit, form, and function of the previously available contactors.
Due to the rise in material costs and a dis-economy of scale, Siemens temporarily discontinued the Definite Purpose Contactors despite their increased demand and popularity back in 2011. Today, the DP Contactors return without the Class 34 2-Speed DP, Class 44 Reversing DP, or Class 16 DP Starter, which can now be filled with NEMA or IEC products.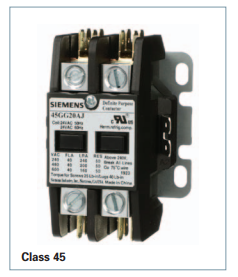 DP Contactor Features:
Compact size
Quiet operation
Completely enclosed body and coil
Visual contact position indication
Power terminations

Quick connects
30A: screws
40A and above: box lugs

Durable metal back plate
Weld-resistant silver cadmium oxide contacts
Class F coil insulation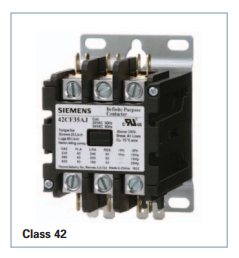 Class 45:
1-pole with shunt bar in 30 and 40 amps
2-pole in 30 and 40 amps
Class 42:
2-pole in 30 and 40 amps
3-pole in 30 to 90 amps
Snap-on auxiliary contacts
Replacement coils available
Siemens'

Definite Purpose Contactors

have been developed for HVAC, refrigeration, fans, blowers, and welders for OEMs and manufacturers of machinery.
Contact your Standard Electric Account Manager or give us a call at 1-888-776-8222 for more on information on ordering and replacements of Siemens products.
---
Standard Electric Supply Co. is a family-owned distributor, built on delivering above standard service. For over 100 years, Standard Electric has been the best at what they do; delivering top-quality products, outstanding service, and providing value-added services to customers across the Midwest. Visit standardelectricsupply.com to see how Standard Electric can become the solution to your needs.