Contributing author: Lisa Brewer, Area Channel Manager with Schneider Electric
The new and improved XX Ultrasonic sensors from Telemecanique Sensors make reliable detection easy.
Highly immune to electromagnetic interference
The new ultrasonic sensors are E2-certified for mobile equipment. This entails a higher immunity to electromagnetic interference even in the most demanding environments.
Detection of small targets and curved surfaces
A powerful transducer and superior electronic design have made it easy to detect even the smallest of targets. The high sensitivity level of these new sensors enables them to detect even poorly reflective and curved surfaces.
Detection over a large coverage area
In the past, attempts to detect objects over a large area with multiple ultrasonic sensors would sometimes fail because the sensor signals interfered with each other. With the "synchronization" feature of the new XX Ultrasonic sensors, it is now possible to reliably detect objects over a large area without risk of cross-talk, even when the ultrasonic sensors are installed closer together.
For advanced or customer sensor configurations, XX Configuration software is also now available.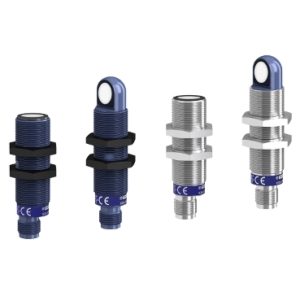 Additional features and benefits of the XX Ultrasonic Sensors include:
Standard format
M18 cylindrical: straight and 90 degree angled
M12, 5-pin connector
Available in plastic, Nickel-plated brass & SS316L
High Performance
Tilt angle of up to +/- 35 degrees at 500mm
Switching frequency up to 10 Hz
Synchronization capability up to 8 sensors
Easy Configuration using the XXZPB100 accessory
Set near or far limits
Set output function: NO/NC or direct/inverse
Digital output: Select between Window/Reflex/Proximity/Pump modes
For more information, view the XX Ultrasonic brochure by clicking HERE. Contact your account manager, visit www.standardelectricsupply.com, or call 1-800-776-8222 for more details.