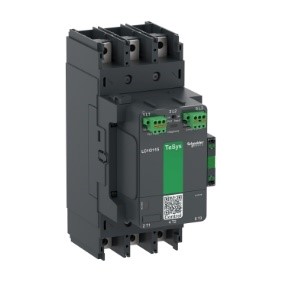 Standard Electric and Schneider Electric are offering the next generation of TeSys Giga Contactors that serve the needs of numerous manufacturing and processing industries.  These contractors are designed to provide robust performance while optimizing maintenance service time on tasks and reducing risks.  As industry requirements have evolved to demand process performance monitoring through data networks and online expert services, TeSys Giga is Schneider Electric's new range of contactors that answer these evolving needs.
 
Features & Benefits:
Advanced contactor control
Simplified wiring
Less energy consumption and wider voltage bandwidth
Enhanced durability
Advanced diagnostic features
Compact size
Easy, predictive maintenance
Designed to meet the needs of demanding applications
Contact wear is monitored by a dedicated module and shown in the front panel through LED.  Predictive maintenance can be planned for, thereby avoiding breakdown maintenance.  Switching modules can be replaced quickly and easily thanks to their plug-and-play design.
TeSys is a system of control and protection products that work together to offer the best-in-class solutions for motor control applications, from basic controls to advanced protection and monitoring.  Schneider Electric TeSys Giga Contactors enhance control panel designs and solve today's market demands. For more than 4 decades, this range of contractors continues to have a high reputation for performance, reliability, and quality and continues to exceed performance expectations through data networks and online expert services.
To learn more about Schneider's TeSys Giga Contactors, click the link below and your Account Manager will be in touch.
---
Standard Electric Supply Co. is a family-owned distributor, built on delivering outstanding service. For over 100 years, Standard Electric has been the best at what they do; delivering top-quality products, outstanding service, and providing value-added services to customers across the Midwest. Visit standardelectricsupply.com to see how Standard Electric can become the solution to your needs.
Sharing this post