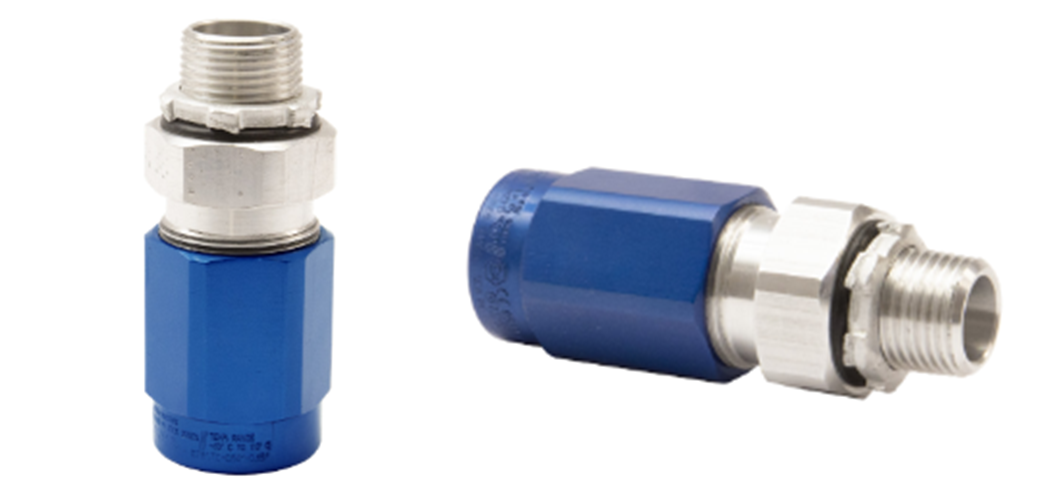 Standard Electric and Eaton's Crouse-Hinds Series TMC3 Terminator Cable Gland is an ideal solution for securely connecting armored MC or TECK armored cable and non-armored tray cable in harsh, corrosive, or heavy industrial areas. This cable gland can be used with drilling rigs, refineries, petrochemical plants, granaries, and mining operations. It provides a means for terminating junction boxes, control centers, panel boards, and enclosures for motor control and electrical distribution equipment. TMC3 cable glands form a mechanical watertight connection and a corrosion resistant design with material options including copper-free aluminum, nickel-plated brass, or 316 stainless steel.
The Eaton TMC Terminator Cable Gland may be used on all types of electrical power, control, instrumentation, data, and telecommunications cables.  Due to its design, it is used as a sealing and termination device to ensure that the characteristics of the enclosure which the cable enters can be maintained adequately.  Additionally, to simplify field installation, the multiple thread size options per sealing range eliminates the need for adapters or reducers, and the two-piece construction features increase wrenching surface size on both the body and nut. A standard gasket and locknut improve ingress protection to IP66 and NEMA 4X requirements.
Features & Benefits:
½-in. to ¾-in. NPT sizes in small & medium cable ranges (larger sizes up to 2-in. coming soon).
Intelligent design provides options for low power consumption & switched/unswitched input wiring.
Meets same bonding requirements as Myers™ hubs when installed in thin wall enclosures.
Temperature range:  -60°C to +109°C
Don't wait to hear the Terminator say, "I'll be back". The TMC3 Terminator Cable Gland is available today as the armored barrier needed for harsh and hazardous industrial areas.
To learn more about Eaton Crouse-Hinds Series TMC3 Terminator Cable Glands click the link below and your Account Manager will be in touch.
---
Standard Electric Supply Co. is a family-owned distributor, built on delivering outstanding service. For over 100 years, Standard Electric has been the best at what they do; delivering top-quality products, outstanding service, and providing value-added services to customers across the Midwest. Visit standardelectricsupply.com to see how Standard Electric can become the solution to your needs.
Sharing this post