With Schneider Electric's range of fully customizable pushbuttons, you'll always have the design you need no matter the function.
Why Customization?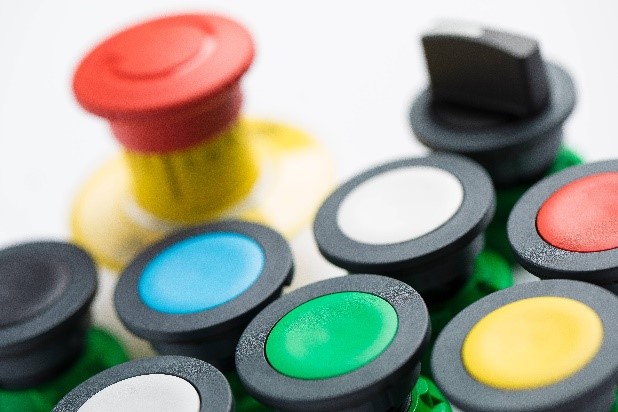 Customizing pushbuttons has never been easier using Schneider Electric's pushbutton product selector tool. You design the best pushbutton for your business, choosing the color and marking variations that fit your needs. Off-the-shelf solutions rarely make sense for every customer.
That means with Schneider Electric's customization tools, you'll get: 
Better pushbutton aesthetics – you have full control over the design and creative outcome of your pushbuttons!

Better pushbutton ergonomics – with cognitive ergonomics in mind, you can place an emphasis on certain pushbuttons that require a larger visual footprint on your panel.

Installation time savings – when designing legend panels, it will act as your template for hole punching and drilling no matter how many panels you have.
Turning your panels and control stations into safe and clearly labeled solutions doesn't always have to be a hassle. Through Schneider Electric's selector tool, you have the freedom to reorganize your pushbuttons and signaling devices, creatively differentiating your company in the process.
What Types of Customization Are Available?
Color variation – color plated products and button colors

You have the option to select standard pushbutton colors or choose from over 16.5 million custom colors available.

Marking Variations – texts, logos, and even pictures can be added for increased specification and function determination

Several types of markings include:

On the heads

Legend holders and legend plates

Legend panels

On control stations
How to Customize?
Schneider Electric's online customization tool is always available for you to begin your next project. By visiting

se.com/control

, you can begin customizing your next project!
---
Standard Electric Supply Co. is a family-owned distributor, built on delivering outstanding service. For over 100 years, Standard Electric has been the best at what they do; delivering top-quality products, outstanding service, and providing value-added services to customers across the Midwest. Visit standardelectricsupply.com to see how Standard Electric can become the solution to your needs.