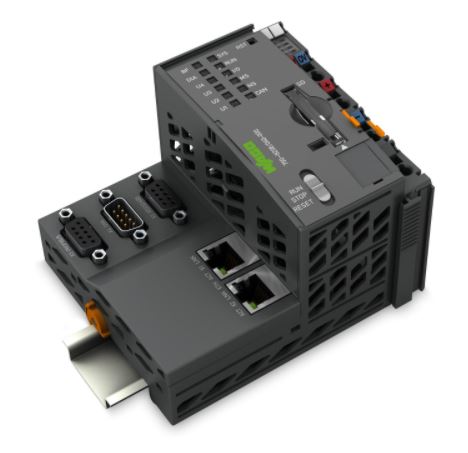 Standard Electric and WAGO are offering the second-generation 750 series XTR.  This rugged device is second to none and excels in extreme environments.  Requiring no additional protective equipment, the Controller defies temperature fluctuations of -40 to +70°C (-40   to 158°F) and has extreme resistance to impulse voltage up to 5kV, is immune to interference, and vibration-proof up to 5g.
In addition to the well-established runtime system, the 750 XTR also features the CODESYS V3-based e!RUNTIME System.  This Controller perfectly supports the transition to CODESYS V3.  Using the convenient and simple runtime system, along with the integrated web visualization application, you can quickly and efficiently execute even complex automation tasks.  The 750 series XTR satisfies the requirements of traditional engineering disciplines such as mechanical engineering while tackling the toughest technical demands of newer fields including power supply and the on/offshore industries.
Features & Benefits:
Easy familiarization
Easy switchover from other programming languages
Embedded Linux
Large memory
Fast processor
Numerous communication interfaces
Fast Fieldbus configuration
Built-in security
The WAGO-I/O-SYSTEM 750 XTR is the first choice for demanding applications in numerous industries/disciplines, as it perfectly prepares for future energy market requirements and withstands extreme environments frequently found in many industries.
To learn more about Wago's 750 series XTR, click the link below and your Account Manager will be in touch.
---
Standard Electric Supply Co. is a family-owned distributor, built on delivering outstanding service. For over 100 years, Standard Electric has been the best at what they do; delivering top-quality products, outstanding service, and providing value-added services to customers across the Midwest. Visit standardelectricsupply.com to see how Standard Electric can become the solution to your needs.
Sharing this post