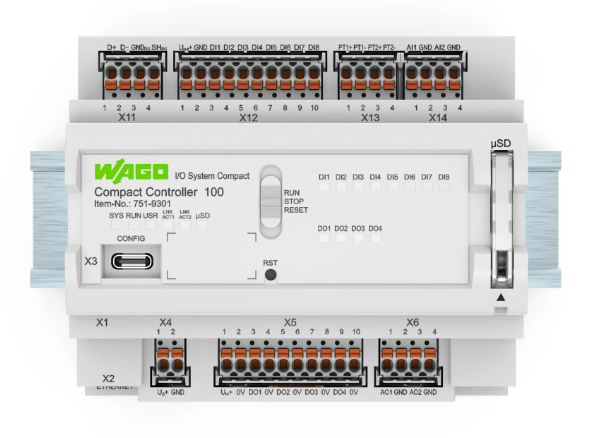 Standard Electric and Wago are ecstatic to be offering the Compact Controller 100, the new programmable logic controller (PLC) that is changing the game. The Compact Controller offers new and favorable services to whatever the users' needs happen to be at a prompt pace and at a more than manageable size. As the newest addition to the already well-established PFC200 Series a product line, that has proven itself time and time again, the Compact Controller 100 is another huge step in the right direction for improving automation for the better.

Features & Benefits:
Controller with real-time Linux operating system
Compact controller with I/Os in a DIN-rail mountable device hosing
Manufacturer-independent CODESYS V3 engineering environment
Connectivity-hero
Open security
This controller is an improvement in both speed and memory, but what truly is incredible is the size. The Compact Controller comes in at approximately 213 grams, 108 mm. in width and 90 mm. in height. For our friends who don't use the metric system, it weighs about 0.469 pounds, and is 4.252 inches long and 3.543 inches tall.
Upon usage of the Compact Controller 100, you will have these three words pop into your head:
Mini, Matchless, Manageable.
To learn more about the Compact Controller 100 from Wago, click the link below and your Account Manager will be in touch.
---
Standard Electric Supply Co. is a family-owned distributor, built on delivering outstanding service. For over 100 years, Standard Electric has been the best at what they do; delivering top-quality products, outstanding service, and providing value-added services to customers across the Midwest. Visit standardelectricsupply.com to see how Standard Electric can become the solution to your needs.
Sharing this post