Standard Electric and WAGO are proud to announce customizable products and engineering services. The Custom Products and Engineering Services (CPES) Department offers full turnkey value-add service that strives to fulfill customers' needs while controlling costs. WAGO offers assistance in designing, prototyping, and manufacturing your product and application!
CPES Department has been examining various problems and establishing essential solutions for over 2 decades, all while continuing to keep price points competitive and attainable. This specific program can help with many applications. WAGO specialists have the skills and tools necessary to help reduce space, installation time, inventory, and so much more.
Features & Benefits:
Minimum production runs as low as 100 pieces
No engineering fee for initial design
Prototypes available for proof of concept
Comprehensive circuit board terminals to fit application requirements
Included options such as push-in cage clamp, tool operated, push-button, or lever operated terminals to fit your application needs
Reliable board connection of wires ranging from 28 to 4 AWG with Cage Clamp – which is maintenance-free & vibration proof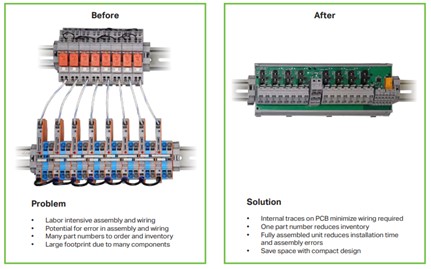 This program is capable of a multitude of services and features that fit into two categories: design and manufacturing. Regarding design, services include circuit design, PCB layout, testing, prototyping, and more. Manufacturing services include leaded and lead-free solder, pick n' place for SMT components, marking machines (inkjet and thermal), and so much more. With everything that is offered in this program, the only thing left to say is:
What are you waiting for?
To learn more about Custom Design Offers from WAGO, click the link below and your Account Manager will be in touch.
---
Standard Electric Supply Co. is a family-owned distributor, built on delivering outstanding service. For over 100 years, Standard Electric has been the best at what they do; delivering top-quality products, outstanding service, and providing value-added services to customers across the Midwest. Visit standardelectricsupply.com to see how Standard Electric can become the solution to your needs.
Sharing this post